Siri Allows Some Other Voices, But Only If You Willing to Deal with International Limitations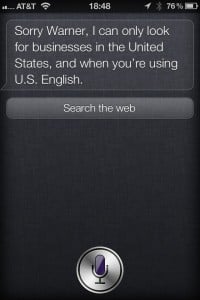 One of the disappointing bits of news about Apple's Siri service on the iPhone 4S came when non-US purchasers found out that Siri isn't yet ready to let them talk and search for local businesses or maps. In fact, currently only US users can have that kind of conversational feedback with Siri. According to Apple's FAQ, Maps and Local Search in additional countries in 2012.
That's obviously disappointing news for non US iPhone 4S users. But it's also an inconvenience for US users who stumble into the settings for Siri and see that there are other voices available. You can choose from Australian English, UK English, French, or German. But be warned. If you do so and search for a local business or directions you'll get Siri talking back to you informing you that you need to be using US English for that kind of command.
It is interesting what Apps or functions that can be accessed are tied to the limited number of voices available. One of the things that I've seen a number of folks ask for in the future are different voice choices for Siri. My first impression is that Apple will figure out a way to do that and charge for additional voices. That may still happen but if they voices are tied to Location Services in this way, I'm not so sure.
Only the future will tell.