Siri Eyes Free Mode Arrives on 2013 Chevy Sonic and Spark
iPhone users with a 2013 Chevy Sonic or Spark can soon control Siri with a built in steering wheel control, offering faster, eyes-free, access to Apple's digital personal assistant.
According to Chevy, the Siri Eyes Free feature will arrive as an update to Chevy Mylink system in March.
With distracted driving incidents on the rise worldwide, many state and local governments have decided to ban the use of mobile phones, specifically the texting aspect, in an effort to curb this trend.
However, many people still want or need to be able to use devices while on the go, and automakers are quick to jump on board with providing ways to do that. Ford has the Sync and MyFord touch systems. Hyundai has Blue Link. General Motors also has OnStar, which is the eldest in this arena.
Many smartphone users want to be able to use their own phones, and prefer the interface provided by their mobile phones over that user control interface built in to the vehicle. That is where Eyes Free comes in, available on iOS 6 with an iPhone 4S or newer, a user can press a button on the steering wheel to activate a Bluetooth link to the phone and be able to use the Siri voice command interface.
The only thing the automaker has to do is provide the button to interface with the phone, and iOS does the rest. The first vehicles to market with the Eyes Free feature is the Chevrolet Spark and Sonic, which are now available with this functionality.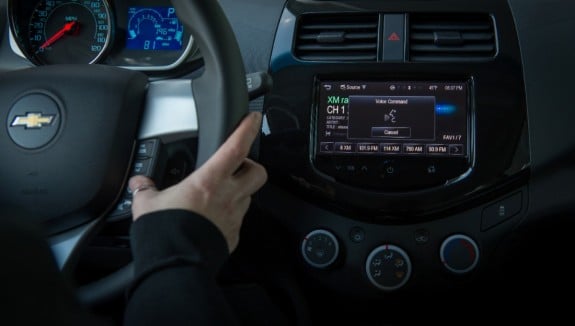 By pressing the Eyes Free button, a connection is made to the iOS device, and the driver of the vehicle then can use any of Siri's voice commands. To lessen the distraction even more, by utilizing Eyes Free the screen on the mobile phone does not even light up or power on, which allows for it to be even less of a distraction.
If you wanted to use Siri now in your Bluetooth enabled vehicle (either because you do not have Eyes Free or do not want a vehicle with it), you can simply press and hold the Home button on your iPhone and the vehicle will treat it like a phone call, allowing you to talk to Siri and to execute commands. However, this requires you to have access to the phone physically, and will also cause the display to light up.  Eyes Free is intended to be a more elegant solution.