Siri, I Wish You Could Do More
Now that I've gotten used to the limited number of things the beta version of Siri can do on the iPhone 4S, I wish Siri could do a few more things. I'm sure that some of these are coming soon but I also doubt Apple will give me all I want with Siri.
Apple has a tendency to leave users wanting just a little bit more.
With that in mind, here are a number of things I wish Siri could do.
Hopefully, Apple will add some of these after Siri leaves beta.
Launch Apps
"Siri, Launch Navigon."
Say that to her and she balks at it and apologizes for disappointing you. I have to believe starting apps with Siri will show up soon. It shouldn't be that hard for Apple to include a database of names of the apps in their store on their servers.
I'd like to be able to tell Siri to fire up any app I have installed on my phone. At the very least let me launch the built-in apps like Mail or Safari and the Apple created apps, like Keynote or Numbers. That would be a great first start.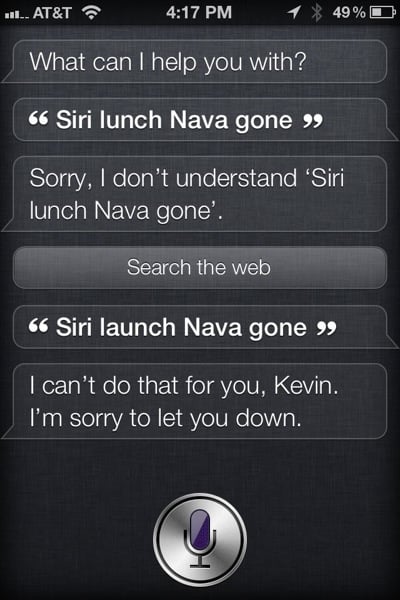 Tweet Directly
With Twitter integrated into iOS, I can't understand why they didn't include the ability to send a Tweet using the Twitter app. It's not my favorite client, but I'd be happy to tuck it away in a folder of apps I never use just for this purpose. Again, this has to be coming soon.
Until they do, you can always follow Josh's guide on having Siri send a text in order to update your Twitter status. Facebook should work too by registering your phone and then sending a text to 32665, the official Facebook texting number.
Record Voice Memos
I use the built-in Voice Memos app to record my mileage for work and other things. I'd love to just hold down the Home button and say, "Create voice memo" and have Siri start recording what comes next and save it in the Voice Memo app.
As you can see we have hope that this one might be under constructions since Siri responds by saying, "I haven't yet learned to take dictation." The word "yet" gives me hope.
Speak Turn-by-turn Directions
Google still has Apple beat in this category. The screen size and this failure are my too biggest disappointments with the iPhone 4S. Currently Siri just launches the Maps app. Lame! I want Siri to respond to my request for directions by saying something like, "OK. Let me find your location." And then it should let you confirm that it found you correctly and start telling you where to turn next.
Change Voices
While I'm fine with the built-in Siri voice, some of the other writers on our staff quickly chimed in requesting this feature. They'd love to be able to change voices. I can even see how Apple could generate another fast profit stream by letting us buy them from the App store. Sadly, those who don't like Siri's generic voice are stuck with it, for the time being.
Customize Responses
Mostly for entertainment purposes, I wish I could change the canned responses. It would be fun to have Siri respond to a request with something like, "You betcha!" instead of the boring OK.
Some of the Siri's responses drag on and get annoying. Siri can be a bit chatty and I'd love to cut some of them out. For example, if you say, "Remind me" Siri replies with "OK, just tell me what you want to be reminded you about." She could just say "OK" and that would suffice. I can do without the verbose canned responses of Siri.
Work on Other Devices
Despite her weaknesses, I really like and use Siri. I want it on my iPad and my Mac too. I feel certain she's coming to the Mac, but I also feel certain she's not coming to my iPad.
That's going to be Apple's draw to get us to upgrade to iPad 3 (or will it be 2S?) next March. It's possible Apple will release Siri to older devices once the beta ends, but I'm not going to hold my breath.
Stop the Siri Bombing
Josh gets pretty worked up over this one and I can't blame him. I've not had to deal with it yet and hope my family doesn't see this and start. Siri bombing happens when you talk to Siri and someone keeps talking after your done forcing Siri to keep listening. It can be annoying and cause marital strife and lead to children being grounded.
Sing to Me
Yes you can start playing songs with Siri, but wouldn't it be fun if Siri responded to some of our ridiculous questions and statements by busting out in an appropriate song. For example, if I say, "Siri, I love you!" she has some fun responses, but imagine if she started singing, "You give love a bad name!"
These last two are just in jest, but I'm really hoping for the other 7 to come to fruition in the next few months.
What functions would you like to see Apple add to Siri, both for fun and functionality?

As an Amazon Associate I earn from qualifying purchases.