SketchParty TV for iPad is Pictionary on Steroids With AirPlay
SketchParty TV turns the iPad and an Apple TV into a perfect party game for fans of the Pictionary or Draw Something games.
Forget playing long drawn out games over the Internet and invite friends and family over for a fun evening of sketching and guessing.
SketchParty TV is a pass and play iPad game which uses AirPlay Mirroring to turn your HDTV into a giant canvas.
As Magnate Interactive puts it,
You could buy an easel, a huge pad of paper, and some markers, then write down a really long list of words and make up some rules and try and keep track of points and get marker smudges all over your furniture. But who wants to do that?
Instead, turn on AirPlay Mirroring and start playing. I spent the evening playing a quick game of SketchParty TV with my wife, and can't wait to invite friends over to play.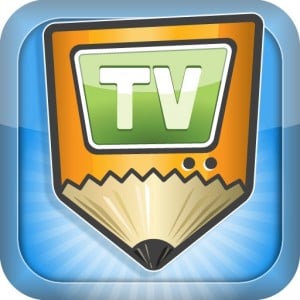 The app shows the drawer five words, which must be drawn within 2 minutes. While the drawing, team mates must guess the word. If a guess is correct, tap "Got it!" or "Pass!" to come back later.
The sketches show up on the HDTV, but the words and drawing pallet are only on the iPad. Unlike other drawing games, there is a full selection of colors available from the start. The app offers several brush sizes and fast undo and redo buttons.
The game runs on the iPad 2 and the new iPad 3rd generation and will work with your fingers, but I recommend a nice iPad stylus for faster, more accurate drawings.
The game supports two teams of up to eight players, and is suitable for ages eight and up. If you've been looking for a reason to buy an Apple TV, this might be the app that pushes your family over the edge.
SketchParty TV is $4.99 in the iTunes app store, and offers plenty of fun for the price. The developer promises updates that will bring new words and features.