Skip iOS 5.1.1 If You Want an iPhone 4S Jailbreak on iOS 5.1
Apple is pushing out iOS 5.1.1, the latest security and bug fix update for iOS 5.1 out to the iPad, iPhone and iPod Touch.
The new update is available as an over the air download, but users who want to jailbreak the iPhone 4S on iOS 5.1 should avoid this update. iPhone 4 users hoping for the iOS 5.1 untethered Jailbreak should not update to iOS 5.1.1.
Apple typically include security fixes to prevent jailbreaking in small updates like this. In practice, it is best for potential jailbreakers to avoid these patches.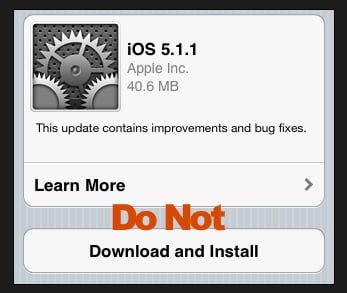 iPhone hacker Pod2g discovered two major exploits needed for the iPhone 4S jailbreak last week, and it's not yet clear if this update patches these exploits.
Unlike iOS 5.1, which brought new features, the iOS 5.1.1 update does not add new features to the iPhone 4S and apps like iMovie and iPhoto do not need iOS 5.1.1 in order to run. This makes it easy to pass on the iPhone 4S iOS 5.1.1 update.
If the iPhone 4S notification center displays a notification of a new software update, dismiss the update.
If it is ok to update to iOS 5.1.1 on the iPhone 4S or the new iPad, @pod2G, @MuscleNerd or @p0sixninja will give the all clear, and we will relay the message on GottaBeMobile.
Should I Jailbreak the iPhone 4S?
Jailbreaking the iPhone 4S voids the Apple warranty and can cause stability issues, which is why some users do not jailbreak the iPhone 4S.
But, new warranty options cover jailbroken iPhones, and most of the time a jailbroken iPhone can be returned to stock before taking it to Apple for repair.
There are plenty of reasons that users jailbreak the iPhone 4S, including the ability to run apps that Apple does not allow in the app store. Check out the best iPhone 4S jailbreak apps for a collection of great reasons to jailbreak the iPhone.

As an Amazon Associate I earn from qualifying purchases.