Skitch Comes to iPhone, Updates iPad and Mac Apps
Skitch hit the iPhone today while also receiving an update to the iPad and Mac apps. The app works with Evernote, the new owner of the communication tool, and integrates further with Evernote.
Evernote is an information collection and organization tool that syncs between just about every modern platform available today.
The Skitch app update brought a new user interface and more tightly woven partnership with Evernote. The Skitch history, which saved all previous screenshots and images saved in Skitch, now saves to a notebook inside Evernote. The user will create this notebook upon launch after first installing or updating the computer version of Skitch.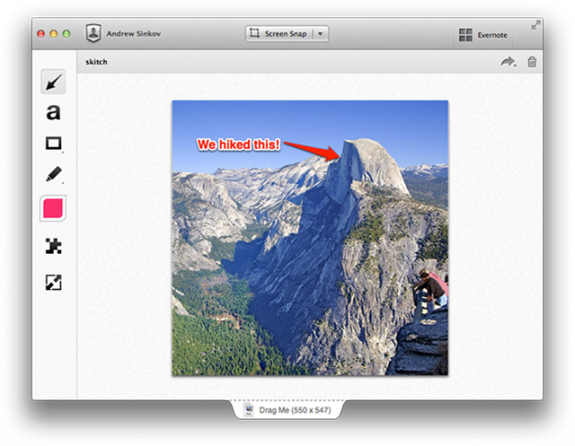 I use Skitch on my computer primarily for screen grabs. The app lets me annotate those images as before. Now there's a new screenshot menu and comes with a much simpler and cleaner interface.
Skitch said "It's a much more focused tool with the same beloved features for quick and efficient communication." I agree and really like the new tool.
On the iPhone users can create drawings, take images of napkin notes or whiteboards after a lecture just as they could with the iPad app. The app lets the user edit the grabs and then sync them to Evernote so they can work with the synced content on a computer or tablet.
The app also helps users share their ideas, pictures or creations via social media, email or as a presentation using AirPlay and an Apple TV or the VGA/HDMI dongles. Also, the app lets users take notes on the device while presenting to an audience.
Other new features in this update include the following:
Search the notes as one would in the Evernote apps
Pixelate parts of screen grabs or images to protect the user's privacy – see license plate in the image to the right
Highlight just like one would a book or magazine using transparent on-screen colored highlighters
Check out this demo of the updated computer app running on the Mac.
And here's the new iPhone app.
Android users can also get Skitch in the Google Play Store for free.