Skitch for iOS 7 Brings Back PDF Features and Web Capture
We seem to be living in a time where features get removed and then get added back in with some Apps. We also seem to coexisting with buggy releases as part of the norm. Skitch, the photo annotating App that is now a part of the Evernote family of Apps recently lost some features in its iOS 7 update, but the latest update brings some of them back. The features that have been added back include PDF Reading and Web Capture for most users. If you're a Evernote Prime member you can also annotate PDFs. There is also an improved Crop mode for iOS.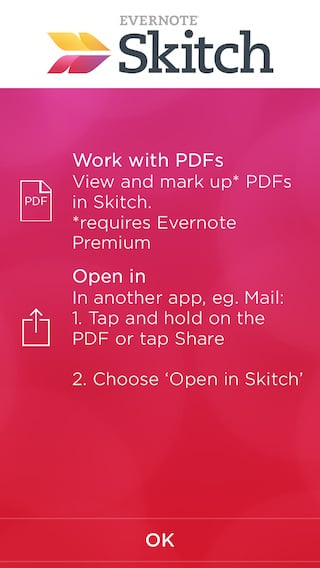 Skitch, like Evernote, can be used on any platform for rudimentary photo editing and photo markup. With iOS it works with both the iPhone and the iPad. A series of annotation tools allow you to place arrows, draw circles or rectangles, add text, and otherwise markup photos, and now once again, PDFs. You can also add a blur filter to portions of a picture.
To work with a PDF in iOS 7, first open the PDF in another program. Then choose Open In from the Share Sheet. Once your PDF is open you can then mark it up as you need to. This was a feature that many Skitch users were upset about when the new version came out following the release of iOS 7.
There may be a few bugs that still need to be worked out just yet. I'm able to annotate PDFs when opened from Dropbox on an iPad Air or the iPad mini with Retina Display, but attempting that same procedure on an iPhone 5s with a PDF stored in Dropbox crashes Skitch.
Ah, well. Progress is slow sometimes.

As an Amazon Associate I earn from qualifying purchases.