Sky Gamblers for the New iPad Sets Sights on Hardcore Gamers (Video)
Last week at the new iPad announcement Apple invited Namco on stage to show off its newest game Sky Gamblers. The game is a new flight-sim similar to the publisher's Ace Combat series.
This new game is exclusive to iOS and it really shows what the new iPad is capable of.
Sky Gamblers takes advantage of the graphics power in the new iPad to render 3D fighter jets and landscapes. The player controls a plane that looks like an F-16 that's tasked with fighting other jets in various locales including a desert and a city that could be San Francisco.
Namco has shown the game running with at least a dozen other planes on-screen at once with no stuttering or slowdown. TechDigest has a video of the Sky Gamblers in action in what looks like a capture the flag game type.
The game looks very impressive on the new iPad, and reiterates what Epic Games said about the tablet having more memory and a better resolution than the Xbox 360 and PlayStation 3.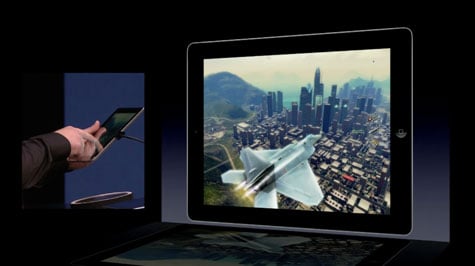 Sky Gamblers looks like a game that could have easily been released on Xbox Live Arcade or Steam on the PC. Instead Namco decided to put the focus on iOS without sacrificing any of the visual flare.
The only downside of Sky Gamblers to "hardcore" gamers will be the motion and touch controls. Flying the jet by moving the iPad will likely take a few minutes to get used to, and some might wish for just a joystick instead. The jet's weapons are controlled by touch icons that should be easily reachable, but again, physical buttons will be missed by many.
If nothing else it will be a non-Infinity Blade game that can show off just how good iOS games with 3D graphics look.
Are you excited to see Sky Gamblers on your iPad?