Skyfire Brings Flash to iPhone Users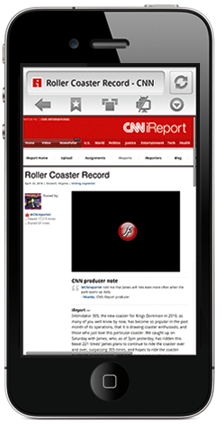 We had reported the possibility that Skyfire may make its way to the iPhone about six months ago, and now the journey is complete as the mobile browser app service is now approved for the App Store and will be showing up soon. While other smartphone rivals have bashed the iPhone and iOS for its lack of Adobe Flash support (Steve Jobs at one point even criticized Flash as being too resource intensive and power hungry), Skyfire is hoping to fix that by bringing Flash content via its app.
Skyfire's browser is set to be available beginning on Thursday at 9 AM Eastern Time for $2.99. The way the browser works is that it will convert Flash content to HTML5 for display on the iPhone. Rather than displaying Flash natively on the device, Skyfire will show a thumbnail of Flash content inside its browser app. When a user clicks on the thumbnail, the Flash content will be rendered remotely, converted to HTML5, and streamed to the iPhone browser.
However, because content is streamed, gamers won't have access to Flash-based games via Skyfire's app nor will Hulu content work via the mobile browser. Instead, Hulu users will be prompted to join Hulu Plus, a subscription plan that allows Hulu content to be streamed to iOS devices for $10 per month.
Though Skyfire is not a perfect solution for Flash content on the iPhone, it does give iPhone owners a way to view Flash content. Adobe has stated that its Adobe Flash 10.1 Mobile browser plug-in will be available on all smartphone operating systems except the iPhone. So far, however, Adobe has only delivered the Flash plug-in to Android users on the current generation Android 2.2 Froyo OS build.
Skyfire also has a comparable version of its browser on Android, of which the company says that Skyfire 2.0 was downloaded on Android Market over 1.5 million times already.

As an Amazon Associate I earn from qualifying purchases.