Skylanders 2016 Release: What We Know
Video game developer Activision showed the world that it was possible to combine real-life toys and games into something bigger than anyone could imagine. The original Skylanders game spawned a massively successful video game franchise, hundreds of toy figures and kicked started an entire genre of experiences. The genre, Toys-to-Life had more entrants than ever last year. Still, Skylanders topped them all with Skylanders Superchargers. Earlier this year, Activision confirmed what we all suspected. A Skylanders 2016 will release arrive later this year to keep the company's winning streak in the Toys-to-Life category intact.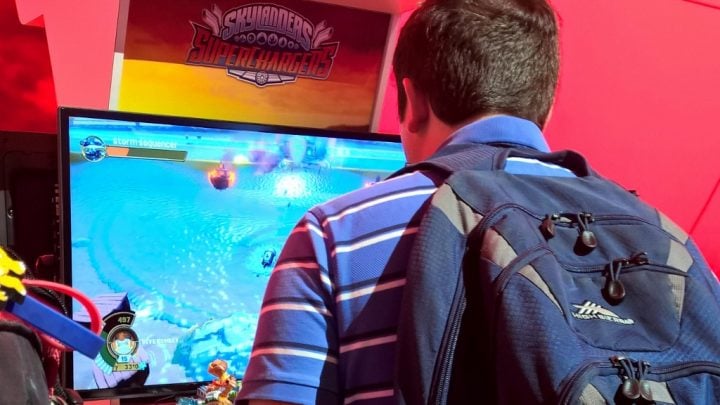 Skylanders 2016 Release Confirmed
Typically, video game companies like to hold their release plans close, opting for a shock and awe approach to delivering news of new titles to fans during events like the Electronic Entertainment Expo and more. Activision is a huge company that has millions of shareholders. It's required to provide guidance on its earnings to those investors. Luckily for gamers, that means it has to telegraph moves before it actually makes them.
In an earnings report this past February, Activision confirmed the Skylanders 2016 release during this fiscal year. It's because of that confirmation that we know a new entry in the series is being developed. To be clear, we're only calling it Skylanders 2016 for shorthand. Activision hasn't officially confirmed what the title of the game is. For example, last year's release was SuperChargers. Before it there was Swap Force, Spyro's Adventure, Giants and Trap Team. It makes sense that the publisher would avoid announcing the game's subtitle. Doing so could provide a big hint at this year's theme.
Skylanders 2016 Release Date is Unknown
Activision may have confirmed that there is a Skylanders 2016 release on the way, but the company was careful not to reveal much more than that. We don't know when to expect Skylanders 2016 to arrive at retailers.
That being said, we can infer a Skylanders 2016 release date based on previous launches. Every Skylanders game except one has launched in October, putting them close enough to the holiday season to be on toy buying lists, but far enough from bigger game releases that normally get all the attention in November. Skylanders SuperChargers launched in late September.
It's safe to assume that Skylanders 2016 won't deviate from that pattern and launch sometime in September or October. That being said, nothing is official until Activision announces it.
Skylanders 2016 Release: All The Things We Don't Know
Because it's so early, there's a ton of missing information that we need about the Skylanders 2016 release.
Every Skylanders release packs a theme. This theme dictates the super-powers and game experiences that players can expect from the new generation of Skylanders figures made for that game. For example, Superchargers introduced vehicles that got amped-up pairs when partnered with a figure for it. These power-ups fit into the story as well. Kaos was trying to use the Doomstation to destroy Skyland. The vehicles helped aid the characters in their mission.
We don't know if there'll be a new generation of real-world toys to go along with this year's game release, but it'd be a shock if there wasn't. Every new game has introduced upgraded the characters that already exist and added new characters made specifically for that year's game.
We don't know how much Skylanders 2016 will cost shoppers. We do know that Activision offered a Portal Owner's pack that allowed longtime players to get the SuperChargers experience at a discount through the Xbox Store and PlayStation Store. Expert that pack to make a return.
It's unclear whether Activision will use the Skylanders 2016 release as an opportunity to stop supporting older consoles. SuperChargers was available on the Xbox 360, Xbox One, PS3, PS4 and Nintendo Wii U. The Xbox 360 and PS3 have already been dropped by most development teams. It is worth noting that Skylanders attempts to reach a more casual gaming audience than other titles. That could mean that Xbox 360 and PS3 users still get a version of the game this year.
Activision has done a terrific job continuing to support the older figures as it introduces new Skylanders We expect that to continue, but we don't yet know if that's guaranteed for this new game.
If Activision stays true to form, we'll absolutely hear more about the Skylanders 2016 release soon enough.
The Electronic Entertainment Expo, gaming's biggest event of the year, kicks off on June 13th. In previous years, Activision has shown off Skylanders games at its both on the show floor. Activision won't have a booth at E3 2016 though. Instead, it'll be at the event showcasing Call of Duty: Infinite Warfare at Sony's E3 2016 both.

As an Amazon Associate I earn from qualifying purchases.