Skylanders SuperChargers Impressions
Everyone is rushing in to stake a claim in the toys-to-life category of games. Few that arrived last year were considered better than the originator, the toys-to-life video game that started it all: Skylanders. Through multiple iterations, tons of new characters and cool new abilities, Skylanders has stayed at the top of everyone's shopping list year after year. With Skylanders SuperChargers, publishers Activision and video game developer Vicarious Visions, hopes to put some innovative distance between the series and its rivals for good.
Rather than focus on a sea of new monsters themselves, Skylanders Superchargers aims takes the toys and video game franchise in a new direction. Yes, to complete the game you're still required to drop the different Skylanders figures onto a portal equipped with the same NFC technology that enables other things like Apple Pay. What's new are the vehicles and a new race of SuperChargers, and they'll enhance a lot of the in-game experience.
Skylanders TrapTeam allowed players to store enemies in a crystal. Skylanders Swapforce left different figures switch add-ons. Skylanders SuperChargers aren't just a new race of all-powerful Skyland denizens alone. Paired with a vehicle, the SuperChargers are an unstoppable new breed of Skylanders with enough fire power to stop Kaos yet again.
Read: 2015 Skylanders SuperChargers: What You Need to Know
As I sat down to a presentation with members of Skylanders SuperChargers' development team I expected to each Skylanders Superchargers vehicle to be insubstantial. I suppose too many cheap toy add-ons had me jaded. As a developer passed one of them to me and then another I realized that these SuperChargers were something more. They are easily on-par with anything you'd see from classic vehicle makers like Hotwheels or Mattel. Hot Streak, one of he new vehicles for example, had completely independent moving wheels so that any kind can run across a floor with ease. Reef Ripper has movable fin so that kids can pretend they're actually playing with a real sub.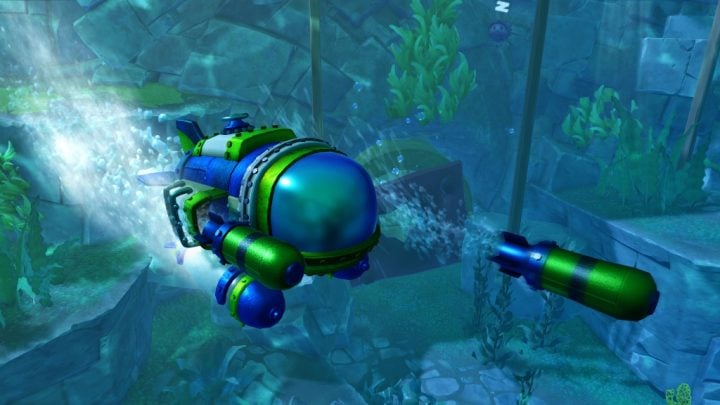 In all, Skylanders SuperChargers will launch with 20 different SuperChargers figures for players to use in the game. Only one, Hot Streak, will be available within the Skylanders SuperChargers Starters Pack. For more, players will need to head to their local store and purchase the vehicles they want. Activision is keeping older Skylanders figures relevant, making them compatible with the new vehicles, but also keeping an eye on the future. Every Skylanders figure will work with every vehicle, but bonus visual upgrades and stats are reserved for only the SuperChargers when matched with their particular vehicle.
Skylanders SuperChargers Impressions – Gameplay
The linear Skylanders SuperChargers story will sound pretty familiar to any gamer who has played previous entries in the series. Kaos is back and this time he has a weapon that'll destroy the land players know and love for good, called the Doomstation of Ultimate Destruction.
Soon I got to see some of the special things Vicarious Visions has in store for Skylanders SuperChargers. Though the theme of this year's entry is vehicles, the developer felt it was necessary to keep a balance between the melee, on-foot battles, platforms and puzzles from past games and these new experiences. There are air, land and sea vehicles with their own weapons and own ways of doing things. The Hot Streak footage I got to see demonstrated was pretty cool. The member of the development team actually at the controls showed me how each vehicle looked normally and how it transformed when it was used by a SuperCharger. Special cut scenes and animation made the transformation feel for more substantial; a special attack and improved damage dealing made that transformation feel real in the game world too.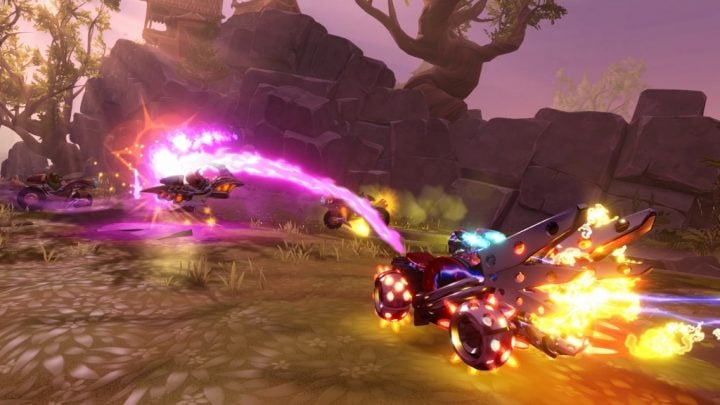 If there's one thing this game should be lauded for its depth in gameplay. At every turn, Vicarious Visions added more things to think about when using a SuperCharger. Say you're not using a member of he SuperChargers Team, but still want upgrades for our vehicle. Upgrades and power-ups are available for vehicles in Skylanders SuperChargers independently of their companion character.
In one level I got to watch as a figure piloting the Reef Ripper scavenged for extras both above and below the water line. In another level the developers tried to impress upon me just how much they felt kids would love this new some but somewhat, linear seeming story. They needn't have bothered, the action and vehicle combos will have kids occupied for hours and they'll love the depth the vehicles offer.
Skylanders SuperChargers Impressions – Should You Buy
I think their parents will love the pricing for the Skylanders SuperChargers. Everyone will still need this year's Skylanders SuperChargers Starter Pack for $74.99 if they don't have a Portal of Power accessory already. That said, there's a digital Portal of Power Owner's Pack that'll include digital versions of the game and included figures too for less.
Any kid in a home with in a home with a Wii U can purchase a dedicated Skylanders SuperChargers Starter Pack that includes a Donky Kong Skylanders figure with a rotating base. Flip the base it he becomes an Nintendo Amiibo character for unlocking extras in Nintendo's own games. Turbo Charge Donky Kong and the Barrel Blaster come free with the Wii U and Nintendo 3DS versions of the game.
I'd say that Skylanders SuperChargers is well worth its purchase price for those new and familiar with the franchise. There's some interesting things happening here, and the depth built into the game for customizing and transforming each vehicle is interesting. Skylanders SuperChargers launches on September 20th for the Xbox One, Xbox 360, Wii U, PS4 and PS3. Spitfire and Hot Streak figures come with the non-Nintendo versions of the game.

As an Amazon Associate I earn from qualifying purchases.