Skylanders Superchargers Release Goes Dark
With Skylanders Superchargers release day quickly approaching, we're learning a lot more about the complete figure and vehicle lineup that video game publisher Activision has coming. This week Activision announced the Skylanders Superchargers Dark Edition Starter Pack, a new Limited Edition offering for the Skylanders Superchargers release that'll include special characters and more.
Skylanders Superchargers release date is set for September 20th. When that day arrives potential buyers will have a pretty interesting choice to make. On the one hand, they can purchase the Skylanders Superchargers Starter Pack for $75.99 that comes with a copy of the game, a Hot Streak vehicle, a Super Shot Stealth Elf, a poster and a Skylanders portal.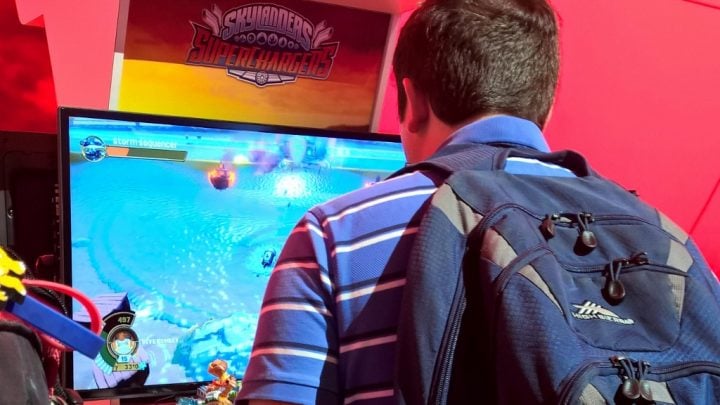 $99 gets users the Dark Edition Skylanders Superchargers release. According to a store entry at GameStop and a report on GameInformer, the Dark Edition Starter Pack comes with a Dark Spitfire figure, Dark Super Shot Stealth Elf figure, Dark Hot Streak vehicle, Dark Sea Shadow vehicle, a disc based copy of the game and a new portable. Each Dark vehicle and accessory looks different than the standard version that's included in the basic version of the game. Also included is a special Kaos Trophy that unlocks special content in the game. Kaos, is the Skylanders's arch villain. He's looking to use a weapon of his own to destroy Skyland in Skylanders Superchargers.
Skylanders Superchargers is this year's sequel in the world's most popular toys-to-life franchise. With previous games in the series players could use a portal to add their favorite characters to the game's combat and puzzles. Since launching the series Activision has steady introduced new ideas to the franchise. Today, the Skylanders universe includes, characters from Spyro, giants, figures with switchable powers and villains that can be trapped and used to the player's advantage. This year's Skylanders Superchargers release doesn't shy away from that, but does focus on something new: vehicles.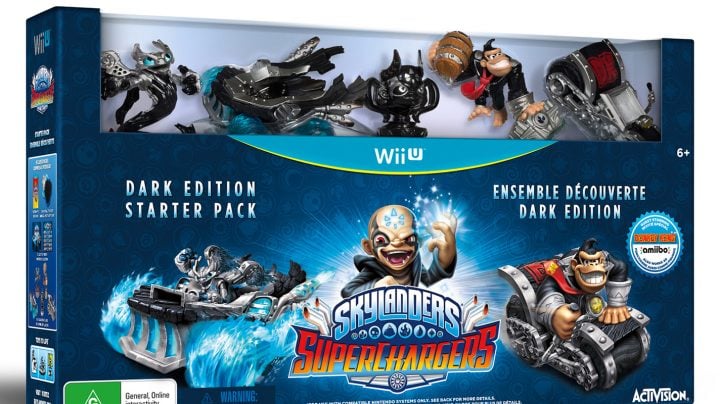 Read: Skylanders Superchargers Impressions
With Kaos' machine capable of unparalleled damage, a new team of Skylanders are assembled, called the Superchargers. The Superchargers team consists of entirely new figures and figures form past games that have been given an upgrade. This new team — and the Skylanders figures that came before them – use land, air and sea vehicles to take on Kaos' army of thugs. The Hot Streak included with both the Standard and Dark Edition Starter Packs is a land vehicle, for example. Though any figure can use a vehicle, that vehicle works best when it's been paired with its companion Supercharger.
Skylanders Superchargers Dark Edition will come in multiple versions version. Which gamers should invest in on Skylanders Superchargers release day depends on what console they have. The Xbox One, Xbox 360, PS3 and PS4 version of Skylanders SuperChargers Dark Edition are all the same and come with the same Spitfire, Hot Streak, Super Shot Stealth Elf Sea Shadow and Kaos Trophy.
There are two separate Skylanders Superchargers Dark Edition versions for the Wii and Wii U. Skylanders Superchargers Dark Edition for Wii includes Dark Spitfire, Dark Hot Streak, Dark Hammer Slam Bowser, a Kaos Tropy and the Dark Clown Cruiser vehicle. The Wii U version switches out Bowser and the Clown Crusier for a Dark Turbo Charge Donkey Kong figure and the Dark Barrel Blaster vehicle. Both of these will sell for $99 too, but the Donkey Kong and Bowser figures are also Amiibo figures that can be used throughout Nintendo's games and consoles as add-ons.

As an Amazon Associate I earn from qualifying purchases.