Skype 2.6 Update for Android Adds Photo and Video Sharing
Skype has rolled out version 2.6 of its Android application and the software brings a feature that many of users have been waiting for. That feature of course is the ability to share photos and video with your colleagues, family members and friends directly from your Android device.
You are able to do both of those over Wi-Fi and you'll also be able to do it over 3G as well. You'll just need to have a data plan which most of you have.
Photo and video sharing aren't the only notable features that Skype has packed into this update either.
In addition, the updated app comes with better battery life and video calling for devices that are rocking a Tegra 2 dual-core processor. Skype mentions the Samsung Galaxy Tab 10.1, Motorola XOOM and Acer Iconia Tablet as devices rocking that chipset but as we know, there are many more out there in the wild. Certainly a welcomed improvement.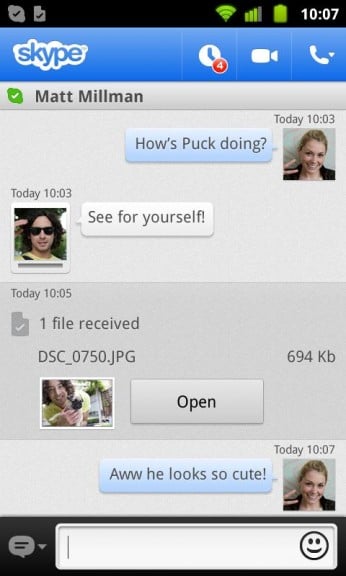 Video support has also been extended to the HTC Amaze 4G, Motorola DROID 4 and Motorola DROID RAZR.
For new users, the new Skype app for Android can be found here on the Android Market. For those of you that already have it, the update should be live right now.

As an Amazon Associate I earn from qualifying purchases.