Skype 5.5 With Facebook Integration – Nice Addition, Not A Must-Have
Looks like the Skype/Facebook marriage will not be a lopsided affair. Just a few weeks after Facebook announced Skype integration into the social network's chat interface, Skype has released an update to their desktop client. Version 5.5 integrates Facebook chat, news feeds, and posting right from the app. Do you need to rush to your computer and download the update now? Depends on how addicted you are to Skype (or to Facebook).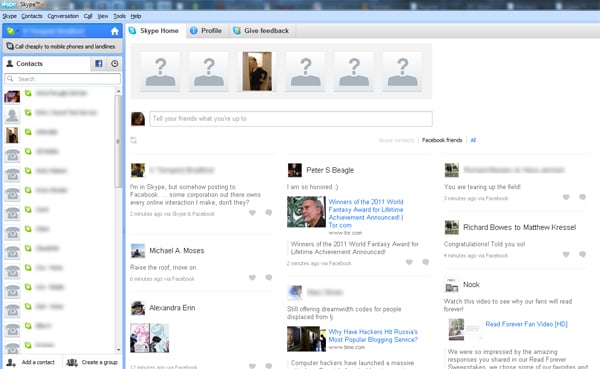 In the Skype home tab users can now click the Facebook Friends link to see the latest posts in their news feed. The interface here isn't going to win design awards, but it doesn't get in the way or make the feed unreadable. The main thing I don't like is that it doesn't auto-refresh. A Refresh icon in the upper left corner will indicate if there are more items. But to get them, you must click.
In the news feed area users can comment on or like posts as with any good client. However, with commenting I encountered a similar refresh problem. Until I clicked on the comment button for a post, there was no indication of existing comments (unless they existed before I loaded that feed item). This isn't so bad if you just want to keep a cursory eye on your feed. If you engage in many conversations, Skype probably isn't the best interface.
Posting to Facebook from Skype is pretty basic and only in text. I tried adding a link to a post and the special link interface didn't come up in Skype. It will let you post links, they'll just show up as text.
The Facebook tab on the contacts list works just like Skype contacts. It highlights online friends with green icons to indicate active and yellow to indicate idle. Offline contacts are below. Chatting is the same, but instead of giving users the option to initiate a video or voice call, there's only a "Call Phone" button. And, so far, it doesn't seem able to pull phone number data from Facebook for this purpose. You have to add a contact's phone number yourself.
The chat experience is the same as via Facebook or any other client. I do like that Skype adds the ability to add multiple participants to a chat.
My overall impression? If you spend a lot of time in Skype, then it's nice to also have access to your Facebook buddies for chat. I'm also a fan of not having to switch windows/tabs to check my social networking feeds. However, my Skype window usually stays minimized and I only use it when I need to.
Digsby has had Facebook chat and news feed integration for a while, and HootSuite is my go-to for keeping track of multiple social networks. Both of those services are more robust for the purpose. Still, if you're a dedicated Skype user, Facebook is a nice addition. Download the newest version on Skype.com.
via Liliputing