Skype Job Posting Hints Video Chat Coming Soon to Windows Phone 7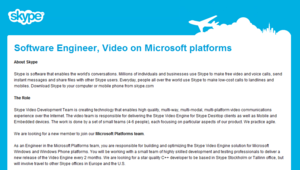 If the Microsoft acquisition of Skype wasn't enough to convince you that the Windows Phone-maker wants to bring video chat to its platform users, then the latest job posting at Skype should help to alleviate fears that Windows Phone 7 may lack video chat support. The job posting is searching for an engineer "for building and optimizing the Skype Video Engine solution for Microsoft Windows and Windows Phone platforms."
Given that Windows Phone 7 Mango is the first update of the platform to natively support front-facing cameras, which are traditionally useful for video calling, Skype integration should fit in nicely with new hardware that comes with the camera. First generation Windows Phone 7 devices won't be able to benefit from video calling as those devices were released without a front-facing camera, however, so new hardware would be required for Skype video calls whenever Skype releases a native client.
Curiously though, it seems that Skype's integration will be pretty deep within Windows Phone 7. WMPU reports that the job description is asking for someone who can code in C++, which would make Skype a native app. Microsoft is restricting Windows Phone 7 third-party app development to Silverlight and XNA, so C++ indicates that the program may be a native app.
Via: WP Central

As an Amazon Associate I earn from qualifying purchases.