Skype Offering A Free Hour Of Wi-Fi In Airports This Month
The next leg of the busy holiday travel season is about to kick off, and you know what that means: free Wi-Fi deals!
In the past airlines and companies like Google and Yahoo have offered a free ride to those in need if some sweet surfing away from home, be it in airplnes, airports, or New York's Times Square. This year Skype is getting into the game.
On Wednesday travelers at 50 U.S. airports will get a free hour of Wi-Fi courtesy of Skype. However, in order to take advantage you'll need a Skype account. That's free, as always, but if you don't have one you should set it up before you go to make the process smoother.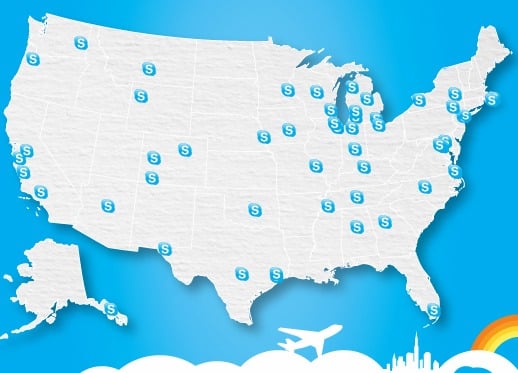 An hour of wireless connectivity isn't all that much, but if you're just in-between flights it may be all you need. Still, it would have been nicer to offer unlimited access.
The main point of this exercise is to make people aware of Skype's Wi-Fi service. It's been around for a while, but tons of people have no clue that you can access thousands of hotspots and pay for it with existing Skype credit. No big surprise as most of the partners in this endeavor hail from overseas.
With Skype Wi-Fi users pay by the minute, not by the hour or day or month like many other services. In the US it looks like prices start at $0.14/min, which works out to $8.40/hour. It actually looks like a sweet idea if you're traveling abroad and don't have a world phone. Connect to a Skype hotspot with your smartphone or laptop and have access to emails, web browsing, even texts if you have something like Google Voice.
Currently, Skype Wi-Fi works with iOS devices and laptops — no Android. Free access begins Wednesday and ends on December 27th.

This article may contain affiliate links. Click here for more details.