SlashGear Goes Hands on with the UMID M1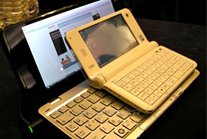 Chris Davies of SlashGear got to go hands on with the UMID M1 at the Mobile World Congress in Barcelona and has filed a good report. This tiny device impressed Chris, but he mentions concerns about the tiny keyboard, which only makes sense to me given the size of the ""in-your-pocket" device.
Chris has posted up a series of pictures and a hands on video that you can check out here.