Sleek MiFi with OLED display from Three hitting the UK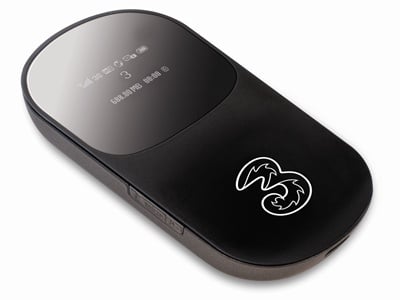 Gotta hand it to UK wireless service provider Three on knowing the way into a geek's heart. Not only have they fitted their MiFi mobile hotspot with an OLED display for detailed device data, but they've rounded off display corners and made it black. Now you and your nerd buddies can look cool while sharing a 3G connection (please note: "can" does not equal "will").
Per their press release, the new MiFi from Three (who owns the "MiFi" trademark in the UK) features one-button operation and an OLED display showing data usage, connection speed, and operation time. The previous model featured a set of LED icons with multiple buttons for management (looks kind of like that female robot from Wall-E run through a press but less cool). The new model can get by with one button because it relies on management through a web browser, now cross-platform compatible. It can only operate while being charged.
Presumably it still includes all the features of the previous model, including a microSD slot and mini-USB port for charging and connecting to said microSD slot. No mention whether the card slot can be shared via Wi-Fi. Feature-wise, looks like it's a step below its competitors, but the design is a slick step up. And kudos to Three for having what must be the coolest logo of any wireless service provider. We can only hope Sprint and Verizon borrow heavily from this lesson for their next mobile hotspot designs.
Via Slashgear

This article may contain affiliate links. Click here for more details.