SleepPhones Bluetooth Headphones for Sleeping Gain Wireless Charging
Falling asleep listening to music or audiobooks is literally a pain with traditional headphones, but SleepPhones offer a soft headband with speakers that allow users to fall asleep while listening to music without tangling up in wires or having earbuds poke into their ear canal when they roll over to get comfortable.
At CES 2015 AcousticSheep announced a new version of their wireless headphones for sleeping, that adds in wireless inductive charging. This lets users set the headphones on a small charger in the morning to charge up for the next night, without fumbling for a charging cable.
Although SleepPhones are not going to replicate high-end audio while you fall asleep, they are one of the most comfortable options for listening to music while you fall asleep. With soft speakers that fit on the sides, you can even lay on your side while you are listening, which is a pain to do with most headphones.
The wireless SleepPhones retail for $99 and are available now. The new wireless SleepPhones with wireless charging are slated for a release in April at $149.
The SleepPhones stay in place thanks to a headband style design that wraps all the way around the head so you don't need to wrap something directly around your ear before you fall asleep. The material is thin and lightweight and did not feel like it would be something that causes a user to overheat during the night.
Originally created by a doctor who needed a better way to fall asleep at night thanks to multiple interruptions, the SleepPhones are available in a variety of colors and configurations. The original model with a wire to your smartphone is $39.99 and there are also packages with a built-in media player that includes ambient noise and other sleep aid audio tracks.
You can purchase the wired SleepPhones and the Bluetooth SleepPhones from the company today, and the new Bluetooth SleepPhones with wireless charging are coming in April.
Check out other great headphones for sleeping that offer a variety of options and prices.
Best Sleep Headphones to Buy in 2019
SleepPhones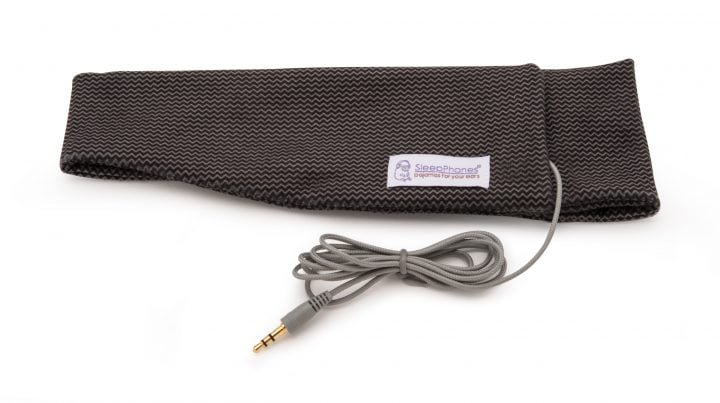 SleepPhones are probably the most well known headphones for sleeping, with slim speakers in a stretchable headband. This includes a cord that runs out the back to a MP3 player or smartphone.
The band is washable and is made of a soft material to stay comfortable overnight. The standard version includes a fleece-style material, but there is a new lighter material that users can select.
There are a number of upgrades available to expand the comfort and convenience of SleepPhones. Users can add a microphone and volume cord for $20. There is a wireless version of these as well.
The headphones include a 48-inch cord and are available in a variety of colors.
$39.95 at SleepPhones

As an Amazon Associate I earn from qualifying purchases.