SleepPhones Wireless Review
SleepPhones are the best headphones for sleeping, and the Bluetooth model is even better because there are no wires to get tangled up in. Read our SleepPhones Wireless review to find out the secret to a better night's sleep and why I rarely go to bed without the soft SleepPhones wrapped around my head.
SleepPhones sells multiple versions including an [easyazon_link identifier="B0046H8ZHS" locale="US" tag="gbm-ea-20″]entry-level pair of headphones[/easyazon_link] for sleeping that are just $39.95, but the top of the line Bluetooth [easyazon_link identifier="B00EZ4L5GU" locale="US" tag="gbm-ea-20″]SleepPhones Wireless[/easyazon_link] are well worth the $99.95 price for anyone who wants to fall asleep listening to music, movies, audiobook,s podcasts or white noise without bothering someone sleeping nearby.
SleepPhones Wireless Comfort
The SleepPhones come with a soft headband that wraps snuggly around your head. This is tight at first, but after a few weeks of use it is perfectly comfortable. There is no traditional wire to run from one ear tot he next or to a phone, nor is there an over the head strap like on many big headphones.
Inside the headband are soft SleepPhones speakers that you can move around so they sit on top of your ears. These are very soft so you can even use these headphones if you are a side sleeper. I normally shift between side and back sleeping and these headphones work in any position I can get into.
There is a small controller in the back or in the side-back area of the headphones. This houses the battery, bluetooth receiver and controls to play, pause and turn the volume up or down. This is slim and it flexes. While it looks like this could be an issue I don't feel it at all while I am using the SleepPhones wireless.
You can remove the speakers to wash the headband, which does come in multiple colors. To charge the SleepPhones Wireless headphones you must unplug the headphones and plug into a Micro USB charger, like you find on most smartphones or Bluetooth headphones. This means you cannot use the headphones while they are charging, but I find that if the headphones die, i can usually get enough of a charge in 10 minutes to last me until I fall asleep.
SleepPhones Wireless Battery Life
A full charge takes about two hours and the company claims this will deliver 8-12 hours of battery life. I typically use these to listen to 15 to 30 minutes of an audio book at night with a sleep timer to pause the book. I can use the headphones like this for about a week and a half before recharging the headphones. When the audio stops the headphones remain connected, but with no music playing the battery doesn't drain quickly.
The only complaint I have is that there is no easy way to know how much batter life is left. Many Bluetooth headphones can report this to the iPhone and users can see it in an icon in the status bar, but the SleepPhones Wireless do not do this.
SleepPhones Audio Quality
SleepPhones are not noise canceling so they cannot drown out everything around you, but with them on I cannot hear my wife sleeping next to me, the TV she is watching and I rarely hear the neighbor's dog barking in the middle of the night, which typically wakes her up. Without the headphones there is a lot of noise coming in, but when they are on, even at low volume I can tune out these sounds to get to sleep faster and enjoy the process with music or an audio book.
The SleepPhones Wireless sound quality is great for what they are. This doesn't sit on the same stage as the Plantronics BackBeat Pro headphones that I often use to watch a movie, but they don't need to. Music, podcasts and audiobooks sound great on the SleepPhones and I normally only need to put the volume at 30% for more than enough volume at night. At this volume or even 50% on my iPhone  I have not heard complaints from my wife that my music or audiobook is too loud.
Are the SleepPhones Wireless Headphones Worth $99
[easyazon_infoblock align="right" identifier="B00EZ4L5GU" locale="US" tag="gbm-ea-20″]Without a doubt the SleepPhones Wireless headphones for sleep are worth every penny I paid for them. They allow me to get to sleep faster and to enjoy the relaxing time before I go to sleep with an audiobook or music without disturbing my wife by playing the content out loud.
I've slept with big headphones, iPhone headphones and other wired headphones, but they were not as comfortable as the SleepPhones and not as convenient as the Bluetooth connection. The SleepPhones Wireless replace the BedPhones as my go to headphones for sleeping.
If you need a better night's sleep or you want to listen to music, podcasts or an audiobook without disturbing a partner you need to buy SleepPhones Wireless.
Best Sleep Headphones to Buy in 2019
SleepPhones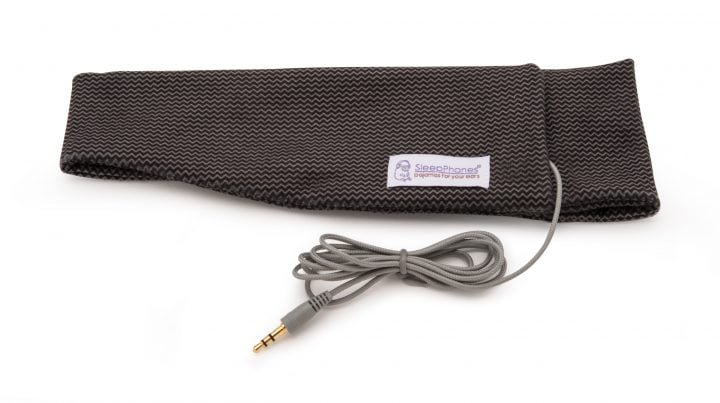 SleepPhones are probably the most well known headphones for sleeping, with slim speakers in a stretchable headband. This includes a cord that runs out the back to a MP3 player or smartphone.
The band is washable and is made of a soft material to stay comfortable overnight. The standard version includes a fleece-style material, but there is a new lighter material that users can select.
There are a number of upgrades available to expand the comfort and convenience of SleepPhones. Users can add a microphone and volume cord for $20. There is a wireless version of these as well.
The headphones include a 48-inch cord and are available in a variety of colors.
$39.95 at SleepPhones

As an Amazon Associate I earn from qualifying purchases.