Slides iOS App Arrives to Complete Google Drive Trifecta
To complete the set of Google Drive apps for iPhone and iPad, the search giant has introduced Slides, which lets you create and edit slideshows on the go and joins Docs and Sheets on iOS.
The Slides app is available for free in the iTunes App Store and goes along with Google Drive's other Docs and Sheets apps, which have been available for a while now.
Slides allows users to create and edit presentations from an iPhone or iPad, and it's also possible to share presentations with others as well as collaborate on a presentation by having multiple users work on a single presentation at the same time. Plus, you can work on a presentation while offline, and Google will upload the changes made when your device finally gets an internet connection.
Furthermore, Google has updated Docs and Sheets with the ability to edit Microsoft Office files directly, without the need to convert Office files in the first place. This functionality is also included in Slides for Microsoft PowerPoint files.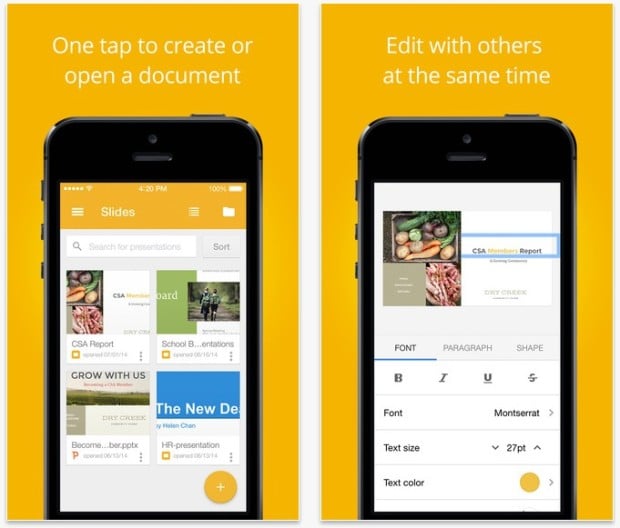 Back in April, Google changed the way its Google Drive app would work on mobile devices, getting rid of editing features and turning the Drive app purely into an app where you can only view documents and files.
Unsurprisingly, many users were upset by this, even if the company released separate apps that allowed users to edit their files, in the form of Docs and Sheets apps at first.
Previously, users could not only view, but also edit documents and other files right from the Google Drive app, allowing an all-in-one place to view and edit documents. However, for some weird reason which is still unknown to a lot of users, Google split the functionality up into four different apps total, making it almost a nightmare for loyal Google Drive users.
The good news is, the functionality of the set of these Google Drive apps is very similar to the editing, document creation, and sharing capability that already exists through the Google Drive web interface, so the user interface is fairly familiar to those who already use Google Drive on the web, and the only thing that's massively different is how the apps translate over to a touchscreen.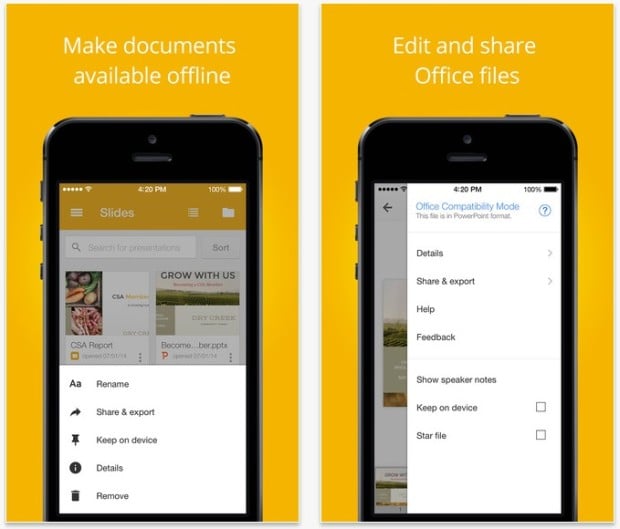 Of course, Google knows that even after splitting up Google Drive into separate apps, people will still use Google Drive, because its service and functionality is quite unlike anything else. Other online office suites come really close, but the simple UI and ease of use of Google Drive makes it a great option for many users.
Plus, you really can't go wrong with Google's cloud storage options. Currently, users receive 15GB of free storage on Google Drive and can purchase 100GB of extra storage for $1.99 a month or 1TB for $9.99 a month.
To compare, Office 365 users receive 20GB of free OneDrive storage with their subscription, which costs $6.99 a month ($69.99 per year) for one computer and one tablet, or $9.99 a month ($99.99 per year) for up to five computers or tablets. Apple iCloud users receive 5GB of free storage and can purchase an additional 10GB of storage for $20 per year, with prices ranging up for larger storage capacities.
Dropbox is perhaps the most expensive out of the cloud storages service that are popular. Users get 5GB for free, but have to pony up $9.99 per month for 100GB and as much as $49.99 per month for only 500GB. This is way more expensive than Google Drive, so if price is the only thing that you're worried about, Google Drive is probably the best deal on the market for 1TB of storage for just $9.99 per month.

This article may contain affiliate links. Click here for more details.