SlideWriter Bringing Better Text Selection to iPad (Video)
Selecting and editing text on the iPad is a pain, but a new app called SlideWriter aims to make it simple.
Last week Daniel Hooper's iPad text editing demo showed an easy way to select text on the iPad. Over the weekend, hackers released an iPad jailbreak app that offers this functionality to jailbroken iPad users, but this isn't available on the new iPad or on the iPad 2 running iOS 5.1.
SlideWriter is a standalone app for the iPad which does not require a jailbroken iPad. The app isn't available in the app store yet, but according to The Next Web it is on the way.
Watch the SlideWriter demo below, to see a better way to highlight and select text on the iPad.
Unfortunately, SlideWriter cannot bring this keyboard functionality to every app, just the simple text editor app shown in the video above.
Unlike Hooper's demo, users don't need to hold the shift key to move. In order to get past Apple's app sensors, SlideWriter is using the space right above the keyboard for selecting text instead of the actual keyboard.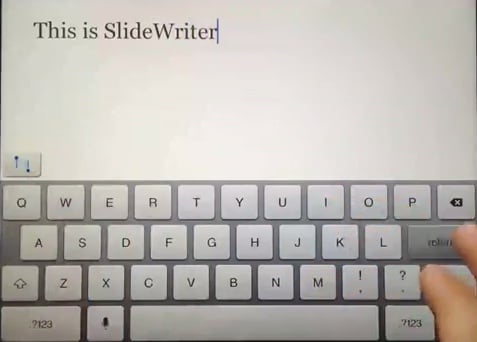 SlideWriter isn't the only app that uses the space. My favorite text editor iA writer uses it for punctuation and arrows to move the cursor.
This feature may not be enough to convince users to leave behind their preferred text editors, but shows promise for a better way to edit text on Apple iPad. It's more likely that a text editing app, will purchase this functionality to add it to its app.
I don't highlight or edit enough text on the iPad to make a standalone app useful, but it would make a nice feature for an app with other features.
Would you buy a text editor that offered a new way to highlight and move the cursor?

As an Amazon Associate I earn from qualifying purchases.