SlingPlayer Adds iPhone 5 And New Slingbox Support
The newest SlingPlayer for iOS adds support for the iPhone 5 so users can watch their place-shifted content in widescreen without black bars on their phones.
The new version of SlingPlayer for iOS also adds support for the new Slingbox 350 and Slingbox 500. The new Slingboxes will stream content at full 1080p, which the iPhone 5 doesn't support, but SlingPlayer on the iPhone 5 will downscale the content to make it fit the 1136×640 display on the smartphone.
For the new Slingbox 500 SlingPlayer 3.1 lets users project photos from the iPhone onto the connected TV. It's just like AirPlay with an Apple TV, though AirPlay also lets users stream video to a connected TV, and it comes free in iOS. The SlingPlayer app typically costs $29.99, but is currently on sale for $14.99.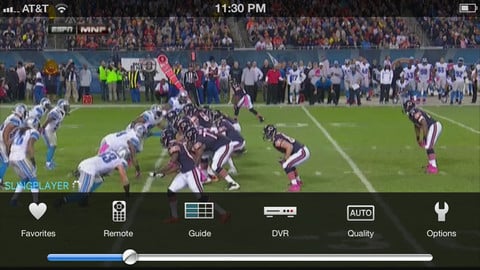 The new SlingPlayer for iPhone also includes a new UI, though that may have been a feature of 3.0 instead of the new 3.1.
With Slingbox and SlingPlayer users can easily watch content from their TV and/or DVR from anywhere as long as they have a Wi-Fi or data connection. It's a great device for watching sports while traveling out of town, or catching up on TV shows that aren't on Hulu or similar services when away from home.
After the initial investment Slingbox and the SlingPlayer app are both free to use, whereas services that offer similar functionality have monthly fees attached. Competing services that offer somewhat functionality inclue Hulu Plus for TV shows which costs $7.99 a month and still has ads. Individual sports associations also have services that let players watch games wherever they are, but they typically cost mote than $100 per season.
Other options include the new Boxee TV which offers a cloud DVR service for $15 a month and Aereo which streams live TV and offers a DVR service for a base of $8 a month. Users who only want to watch pre-recorded content can buy season passes for shows on iTunes or Amazon Instant Video.

As an Amazon Associate I earn from qualifying purchases.