SlingPlayer App Now Available for Windows 8.1 and Surface Tablets
SlingMedia the maker of the Slingbox has announced that there is now a SlingPlayer App available for Windows 8.1, which means that Windows users who own Surface Tablets, and other Windows 8 devices can now view their home TV and DVR content. The App costs $14.99 but you can try it out for free for 24 hours before you have to pay for it.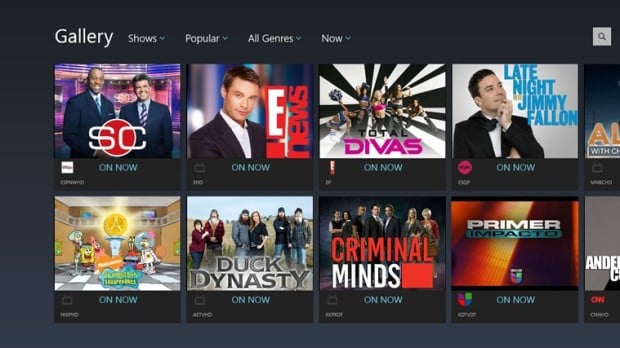 The Slingbox is a device that allows the user to place shift and time shift their TV viewing habits. After connecting a Slingbox to your system and installing an App (now on all platforms with this release) users can watch content that is playing live on their home TV currently, or also recorded content on their home DVR.
According to Slingmedia, 
While customers with Windows 8.1 devices (not including Windows RT-based Surface tablets) have been able to use Sling Media's web-based player in desktop mode, the new SlingPlayer for Windows 8 app provides a unified experience across all Windows 8 tablet, convertible, laptop and desktop computers, with a few cool new features that we think customers will enjoy:
Gallery View: We've introduced an intuitive and visually pleasing way for customers to discover and navigate to TV programs that are on at that moment or soon after.
Touch-Enabled User Interface: To address the increasing number of Windows 8 devices that support touch-controls, the app's touch-enabled user interface allows customers to navigate by touch. Mouse and click control options are still available.
Windows RT Support: Windows RT tablet customers can now access their Slingbox.
Slingmedia has a number of Slingbox models and the App is compatible with the Slingbox 500, Slingbox 350, Slingbox PRO-HD, and the Slingbox SOLO. You do need to have Windows 8.1 running, not just Windows 8. There are other restrictions for DISH network users that you can read about here.
I used to be a religious Slingbox user but my home theatre setup is no longer compatible. For viewing content on the go it was a great addition to my mobile toolbox. You can download the App from the Windows Store.

As an Amazon Associate I earn from qualifying purchases.