SlingPlayer Mobile for iPhone Works Well Enough on iPad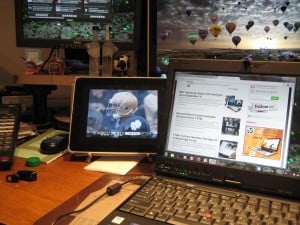 When the Slingbox folks first released SlingPlayer Mobile for the iPhone, I was one of the many folks who resisted picking it up simply because it didn't work on 3G at the time. I did change my mind once that 3G restriction was lifted and plopped down the $29.99 for the App. Like many who enjoy using a Slingbox and also have an iPad, I've been eagerly awaiting a release of SlingPlayer mobile for the iPad. There's been no real word on when that will occur.
So, this afternoon I had some catching up on work to do at my office while we have a matinee performance of Striking 12 going on, and I thought, what the heck. I'll see how the iPhone App works on the iPad. I installed it, and lo and behold it works pretty darn well.
It's not a universal App, so in order to take advantage of the iPad's screen, you need to use the pixel doubling routine. You don't get the clearest picture using that method, and it certainly isn't HD, but for watching a little football while I'm getting some work done, it works well enough.
I"d still like to see the SlingBox folks step it up a knotch with an iPad app, but for the time being this is working just fine, and I'm not having to spring for another copy of the App.

As an Amazon Associate I earn from qualifying purchases.