Small Glitches with Atrix 4G Force Me to Hold Back My Recommendations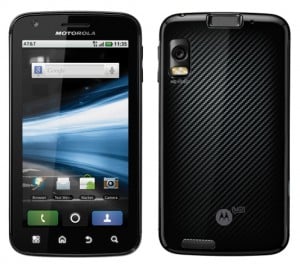 While my experience with the tegra 2 dual-core powered Atrix 4G has been a positive one so far–I've been using it as my daily driver for the past few weeks–the handset does have glaring glitch that may force me to carry a secondary back-up phone. In three separate instances over the past week while in the middle of a call, the Atrix 4G would randomly reboot itself.
As I rarely make calls, the issue itself is not too bad for me personally, based on my usage, but when I do make calls, it is for work and it's bad enough to have a network that is known for frequent dropped calls let alone a phone that reboots itself, taking a good half a minute to re-load everything and get back to a functional state once that does happen.
In another instance, though I cannot ascertain why, when I had left the Atrix 4G in its companion laptop dock overnight for charging, with the dock plugged into an outlet, the Atrix 4G did not charge. That happened only once and I was left with a phone that refused to turn on in the morning as I was headed out to a conference in San Francisco. Fortunately, as the conference was an hour away, I was able to plug the phone into a car charger and let it sit. Since that event, I have not been able to repeat that behavior.
While these issues occurred with the Nexus S with Android 2.3 Gingerbread–Google had already patched those problems with a firmware update–I am not entirely sure if it's hardware, software, or any carrier- or manufacturer-optimizations that are causing these issues as the Atrix 4G runs on Android 2.2 Froyo, not Gingerbread. Whatever the case may be, it appears that I am not the only one to experience these problems as support forums now contain various complaints about random reboots.
Still yet, a third problem occurs with the fingerprint reader, which is integrated into the power button on the top rear of the device. The feature is being promoted to business users as it allows enterprise customers to easily easily, quickly, and securely unlock their smartphone without having to deal with passwords, passcodes, or security pattern unlocks on Android. However, in my experience, the fingerprint reader didn't always initialize correctly. That means that it wasn't activated when you wake the device, so no matter how you swiped your finger, it wouldn't register your finger as if the fingerprint reader didn't exist. Quickly turning the screen off and back on again seemed to remedy the issue for me whenever they may occur.
In regards to the fingerprint reader, there's also a bit of a delay between when you push the fingerprint reader in–as a power button to activate the screen–to when the screen turns on. This delay sometimes triggered me to push the button again…and continue to wait…as I see a black screen with no power. However, both presses on the device had registered and there was a lag between when I had activated the button to when the display turned on, so when the screen turned on, it quickly turned off again as I had activated the button twice in waiting for the screen to turn on.
For now, it's these small glitches right now that prevent me from recommending the Atrix 4G, along with AT&T's slower upload speeds on this 4G handset, at this time. Hopefully, Motorola and AT&T will be able to correct the experience.