Smaller Retina iMac Release Date Rumor Surfaces
While the 27-inch iMac is the only iMac with a super high-resolution 5K display, that may not be the case for much longer, as Apple is planning to release a smaller Retina iMac in October for the 21.5-inch model.
Last year, Apple introduced the 5K iMac, sporting a crazy 5120 x 2880 resolution instead of the 2560 x 1440 resolution that previous models were equipped with, making it a much better display where images pop and text appears crystal clear. Unfortunately, though, those wanting a 21.5-inch iMac have been out of luck if they're wanting a Retina iMac.
The good news is that there is a new report that suggests a new iMac will release next month. More specifically, it's said that the 21.5-inch iMac will be getting a Retina display.
According to 9to5Mac, this new display will rock a 4096 x 2304 resolution, which is way up from the 1920 x 1080 resolution of the normal 21.5-inch iMac. It's said that the new iMac will be announced in October (possibly during Apple's iPad event) and then will release to the public by the beginning of November.
This could also give us a hint as far as when OS X El Capitan will officially release. Apple announced and detailed the new operating system during its Worldwide Developers Conference back in June, but has yet to provide a solid release date. Most likely, they'll reveal a release date in October when they announce new iPads, as well as the rumored 4K 21.5-inch iMac.
One thing that's still unknown is whether or not Apple will keep a lower-cost model of the 21.5-inch iMac, much like the company has been doing with the 27-inch model. The 5K iMac starts at $1,999, while the non-Retina iMac starts at $1,799. The new 21.5-inch Retina iMac could have the same tiers, with the regular 1080p iMac priced a bit lower than the 4K model.
However, the price point for the 4K iMac is up in the air. Currently, the 21.5-inch iMac starts at $1,099 and has models that go up to $1,499, so we wouldn't be surprised to see the 4K iMac start at $1,699 or so, leaving the $1,099 model there as the entry-level machine in order to make the iMac affordable still.
We certainly wouldn't be surprised to see the new 4K iMac release alongside the launch of OS X El Capitan, which is also expected this fall.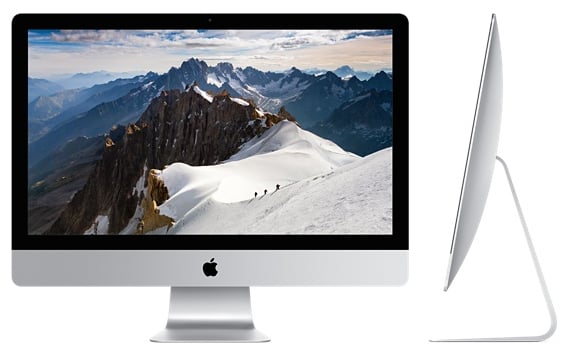 OS X 10.11 El Capitan isn't a major redesign or include any kind of new look over OS X Yosemite, which was expected, but it does include a handful of new features that users will enjoy. There are some improvements to Spotlight Search, Email, Safari, and even a new split-window feature similar to the Snap feature in Windows.
Apple also showed off some new swipe gestures that you can use with your Mac's trackpad in OS X El Capitan, including in the Mail app where you can swipe to delete email and perform other actions as well. You can also use the new swipe gestures in Safari where you can pin tabs to save space and then bring them back later on when you want to open them again.
There's also a cool feature in Safari where it will automatically detect any auto-playing music or videos and you can instantly mute it up in the address bar. Of course, there are browser extensions that are able to do this for Safari, Chrome, and Firefox, but now Safari includes this by default in El Capitan.
As for improvements to Spotlight Search, you can type in a phrase and get a lot more information back. For example, typing in "SF Giants" will not only bring up info about the next game, but also weather in San Francisco if you're planning on attending the game.
In any case, if Apple were to announce a new iMac, it would certainly be in October, but for now we're setting our eyes on next week's iPhone 6s event on September 9.

As an Amazon Associate I earn from qualifying purchases.