Smart Q7 Thoroughly Reviewed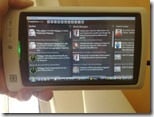 Chippy over at UMPCPortal has put up a thorough review or the Smart Q7 internet tablet device. This device isn't a full on UMPC or MID, but rather, is more or less a capable companion device for those situations when reaching for your tablet, notebook, UMPC, or MID isn't convenient, or if all you want to do is jump on the web or read some content. Chippy succinctly pegs the Smart Q7 as a combination of an instant-on web browser with the e-reader capabilities of the Amazon Kindle and the simple functionality and purpose of the Crunchpad tablet. Low cost is also a major selling point here with the device coming in at a recession-friendly $240. Check out the walk through of the device with Chippy after the jump:
Other features:
1mbps Divx playback. (The platform looks like it could do better. Maybe someone can work out some optimisations for the mplayer-based video software) (H.264 and WMV work but only at very very low bitrates)
net radio streaming. (Shoutcast links open up the audio player)
MP3 playback via one of two applications. (or command line for even more efficiency)
SD card reader (SDHC capable, 4GB tested)
Abiword document editor
Instant messenger software
Very long instant-on standby time (about 3 days without use)
Dictionary (StarDict)
OpenSSH is easy to install via apt-get
Built-in terminal is called evilvte
Issues:
No print features installed by default
No SMB or NFS client features installed by default
No uPNP features installed by default
Touchscreen sometimes responds incorrectly (false positioning of pointer)
Limited RAM (128MB)
Limited flash storage (SD card helps to solve this problem.)

As an Amazon Associate I earn from qualifying purchases.