SmartDraw announces Tablet PC version of SmartDraw 2007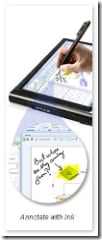 I'm way behind on my email, but just saw this come through from the SmartDraw folks – something definitely to checkout for your Tablet PC. We'll add this to our InkShow list…
SAN DIEGO, CA — January 9, 2007 — SmartDraw.com, creator of SmartDraw ®, the world's most popular business graphics software, today announced an update to SmartDraw 2007 (release 8.1), bringing tablet PC readiness and major feature enhancements to its award winning program. With SmartDraw, anyone can create professional-quality business graphics such as flowcharts, org charts, Gantt charts, timelines, floorplans and more in minutes — no experience or training required.
SmartDraw fully supports mobile computing on a tablet PC. Using the stylus a user can select and stamp appropriate shapes and draw lines onto the page, then annotate them with ink and handwritten words that can be automatically converted to typed text.
"We are the first business graphics software of its kind for tablet PCs," stated SmartDraw.com chief executive and founder Paul Stannard. "Other tablet PC graphics programs require drawing by hand with the stylus. SmartDraw is the first program to offer true professional-quality graphics, combined with a hand-drawn ink layer for quick notes and annotation. A tablet user can create a floor plan (or any other graphic) with SmartDraw more quickly and accurately than hand-drawing it, and with a much higher quality result," stated Stannard.
Also with the new release, flowcharting is now even easier with SmartDraw's unique "auto-insert" feature. Connector lines automatically redraw themselves when objects are inserted or deleted within the chart, saving time and boosting productivity. The new Mind Mapping SmartPanelTM command set encourages "organized brainstorming" – allowing users to add details and ideas to their mind maps with a click of a mouse. "Once you've developed your mind map, you can take planning further with Gantt charts, timelines and calendars — all with the same product, SmartDraw 2007," said Stannard.
Graphics have been greatly improved and users can now set any color to be partially transparent to create new effects and perfect Venn diagrams. SmartDraw's graphic libraries are fully customizable and have been expanded with new calendars, templates and examples, together with additional images from Lippincott for the SmartDraw Healthcare Edition.
SmartDraw.com offers a variety of licensing options and programs for organizations of all sizes. A free trial is available at: www.smartdraw.com and includes both online and telephone technical support.

As an Amazon Associate I earn from qualifying purchases.