Smarter Stand for iPhone Holds Headphones, Props Phone Ingeniously
A tiny piece of plastic won't excite too many people, except when it ingeniously solves two problems in one. The Smarter Stand for iPhone holds an iPhone, or iPod Touch, user's earbuds in a tangle-free way while also propping up the iPhone/iPod Touch for comfortable viewing of videos, perfect at work on a desk or on an airplane tray.
The Smarter Stand started out as a Kickstarter project, but now everyone can buy one for just $12.99.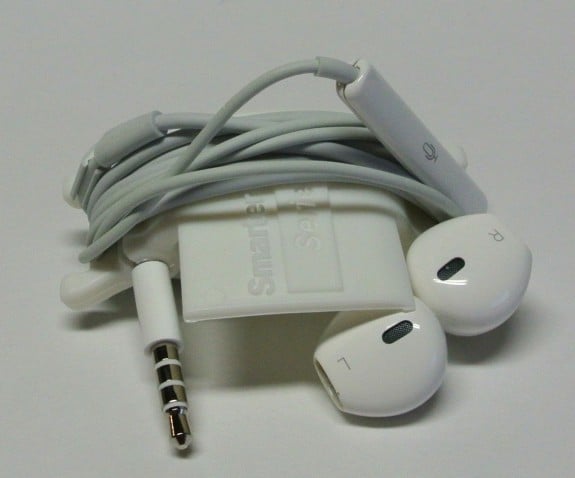 This smart little accessory solves two problems. First, it does what the name suggests. It stands up an iPhone at a comfortable viewing angle for watching videos or making a video call with Facetime or Skype. Slide the iPhone earbud cable into the groove on one end of the stand and pull it so that the stereo jack slides back into the Smarter Stand.
The Smarter Stand works with the iPhone or iPod Touch in a thick case or naked. We suspect that only cases like those from Otterbox or Lifeproof might keep the device from working.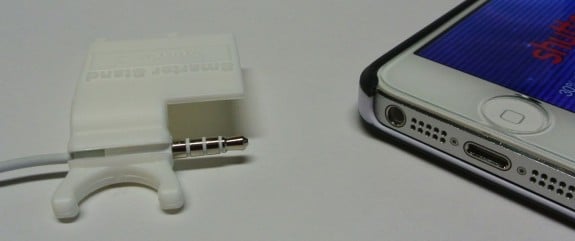 Plug the jack into the iPhone and the tab that sticks out the side of the Smarter Stand holds the phone while the other end of the Smarter Stand acts like a pari of legs.
When the user finishes with the video or call, they can unplug the jack and begin to wrap the cabled around the Smarter Stand. The two ends will hold the cable in place. Tuck the earbuds between the cable and the plastic of the stand to hold them in place in a pocket, purse or carrying bag.
The design of the Smarter Stand seems so simple. Yet it performs a useful function well.
Because the Smarter Stand is just a hunk of molded soft plastic, it doesn't cost much. Get one for only $12.99. They offer two versions, one that fits the iPhone 5 or iPod Touch fifth gen and the other for the earlier generations of the iPhone and iPod Touch.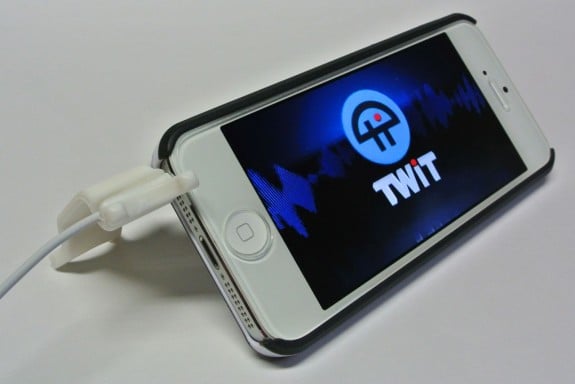 Order one now and they will ship "in May," which means very soon.
The company also sells the Smarter Stand for iPad, which clips on to an iPad Smart Cover to give users more options for viewing or typing angles.

As an Amazon Associate I earn from qualifying purchases.