Snapchat Update Closes Lens Store
The next Snapchat update in 2016 will close the Lens Store, removing your ability to buy the Snapchat Lenses that change the way you look and add effects to your photos.
Originally announced in late 2015, the Snapchat Lens feature, so many users searched how to use this feature that it was the number one how to search for 2015 on Google.
When using the front or rear camera you can tap and hold on your face in Snapchat to open up a Lens option that triggers effects and sounds with raised eyebrows or an open mouth.
Many of the Snapchat Lens options are free, but in November the company started selling Snapchat Lenses for 99 cents each. Now, despite selling "tens of thousands of lenses," each day, the company is closing down the store. Business Insider reports that the service will stop on January 8th. This is an official announcement from the company, but it is not the end of Snapchat Lenses.
An update added the Lens Store, so we expect that the company will use a Snapchat update to remove the buying option.
The company will continue to offer free Snapchat Lens options and Sponsored Snapchat lens options in the app. We've seen a variety of Snapchat Lens options for movies and for brands, which will continue.
Users who already spent money on Snapchat Lenses will be able to keep the Snapchat Lenses that they already purchased.
After the next Snapchat update removes the Lens Store, users will have access to roughly 10 Snapchat Lens options each day.
The video above shows how to use the Snapchat Lenses. Since filming, a Snapchat update delivered the option to use the rear facing camera with the feature.
The slides below show the Snapchat Lens options we would love to see from sponsored companies.
Snapchat Update: 5 New Lenses We Want to See
Star Wars Snapchat Lenses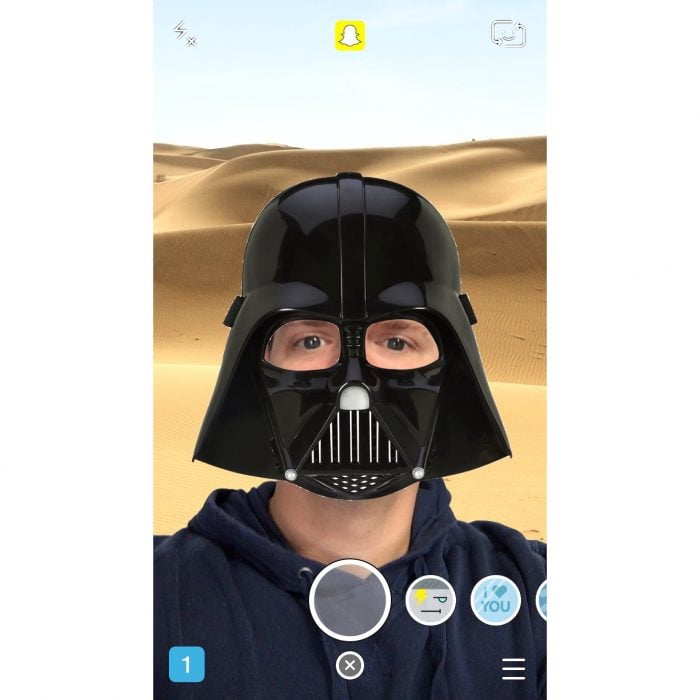 Disney and LucasFilms have the budget to deliver Star Wars Snapchat Lenses for the new Star Wars: The Force Awakens movie release later this year.
Specifically we would love to see a Darth Vader Snapchat Lenses option that delivers breathing sounds and places a mask on our face .
If this isn't up the alley of Disney executives let's go for C3P0, Chewbacca, Han Solo, a Fighter pilot or Rey.
Star Wars is littered with opportunities to deliver new Snapchat Lenses that will allow users to get ready for the release without actually putting on costumes for the wait in line.

This article may contain affiliate links. Click here for more details.