Snapchat Update: Insane Selfies Add Special Effects
The new Snapchat update brings two major features to users that will change the way you look in selfies and offer an option to pay to replay snaps that you just have to see one more time.
Over the last several months Snapchat updates upgraded the new selfie effects and changed the Snapchat lenses that are available to users. Snapchat introduced paid snaps, but then stopped selling them. Now you will see a rotating list of Snapchat Lenses that you can use to change how you look.
This is what you need to know about the Snapchat updates and Snapchat selfie effects. You can also use the MSQRD app to add live selfie filters to photos and videos that are saved directly to your camera roll.
That's right with the new Snapchat update users can pay to see your snap a second time. This comes after Snapchat disabled access to third party apps that saved snaps so that users could see them over and over again.
In addition to this new pay to replay Snapchat in-app purchase the new Snapchat update delivers lenses, which will change how you look in a selfie.
Current Snapchat users can update to the new version of Snapchat on their devices and other users can download Snapchat for iPhone or Android.
Here's what you need to know about the new Snapchat update including pay to replay and the new Lenses.
Snapchat Update Supercharges Selfies
With the new Snapchat update you can tap on your face to trigger facial recognition that will allow you to use new Snapchat Lenses that ad animations and changes to your selfies.
Add hearts, a Terminator facelift, a very creepy zombie, rainbow puke and other effects to the snaps you send to others.
To trigger these tap and hold slightly on your face and then you will see a variety of options at the bottom of the screen. Tap to change and then you can record a snap. You can preview all of these before you record.
Above are some of the options in the new Snapchat Lenses and based on the selection, expect to see new options added over time.
Pay to Replay Snaps
One of the most controversial parts of the new Snapchat update i that it now allows you to pay to replay a snap a second time. Until this update users could replay one snap per day, but now users can pay $0.99 for three replays. There is a limit to how you can use these additional replays as Snapchat explains,
"You can use a Replay on any Snap you receive, but you can only Replay any Snap once. They're a little pricey — but time is money! ;)"
With the new pay to replay snaps option users can purchase through in-app purchases to start using this feature.
Snapchat Trophies
The Snapchat team also added a collection of other features tucked away in this update including Snapchat Trophies.
Swipe down from the camera to your profile page and then tap on the Trophy icon to see your Snapchat Trophy case where you will see awards.
How to Use New Snapchat Lenses
Scream Snapchat Lens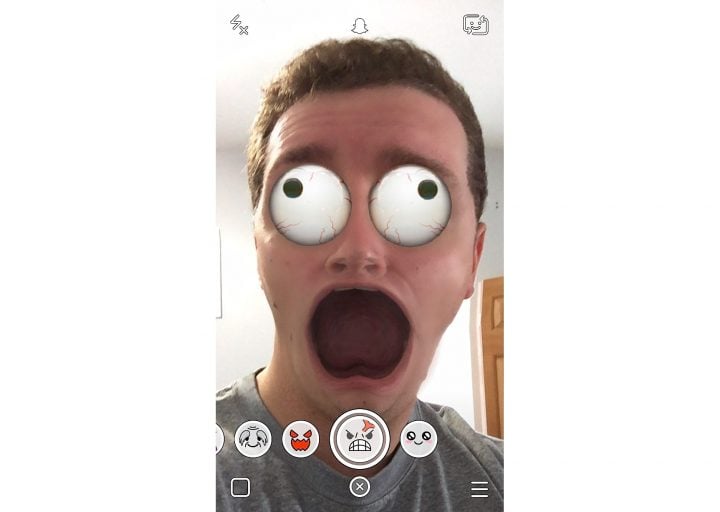 Use the Scream Snapchat Lenses option to make your eyes pop and your mouth go wide. Activate by opening your mouth. Move your head slightly to exxagerate the effect.
When you open your mouth the phone will make a scream, so keep that in mind while recording.

As an Amazon Associate I earn from qualifying purchases.