BatteryGuru Review: Better Battery Life for Galaxy S4, S3 & More
Android phones notoriously suffer from poor battery life, but the utility Snapdragon BatteryGuru can help lengthen that battery life. The app promises to give users more time on a single charge. BatteryGuru does a great job of analyzing how a user works with features and apps on a Snapdragon-powered phone and sets up a recommended profile that does a surprisingly good job of extending battery life with little effort or input from the user.
We installed Snapdragon BatteryGuru (free) on a Samsung Galaxy S4 and it extended battery life by about thirty to fifty percent. Unfortunately, the app only runs on phones or devices with a Qualcomm Snapdragon processor.
How Snapdragon BatteryGuru Saves Power
Once installed, BatteryGuru shows a slide show explaining how it works. Then it explains that it will monitor phone usage for two to four days to decide the best methods of saving battery life.
BatteryGuru distinguishes itself over other battery managers by being extremely simple to use and by doing a great job of limiting power-hogging apps and features. Install it, let it analyze the phone's usage and then let it work with little adjustment from the user.
BatteryGuru displays the following screen after its initial period of testing. The app says, "Snapdragon BatteryGuru has learned enough and has started saving battery. Check back in a few days time to see how well it's been doing."
The kinds of things the app will turn on and off include:
Syncing of apps like Calendar, Email, Facebook

Uploading photos in the background
Wi-Fi – turns off based on location
Bluetooth – turns off based on location
Inactivity Periods, like when sleeping at night, the app shuts down most features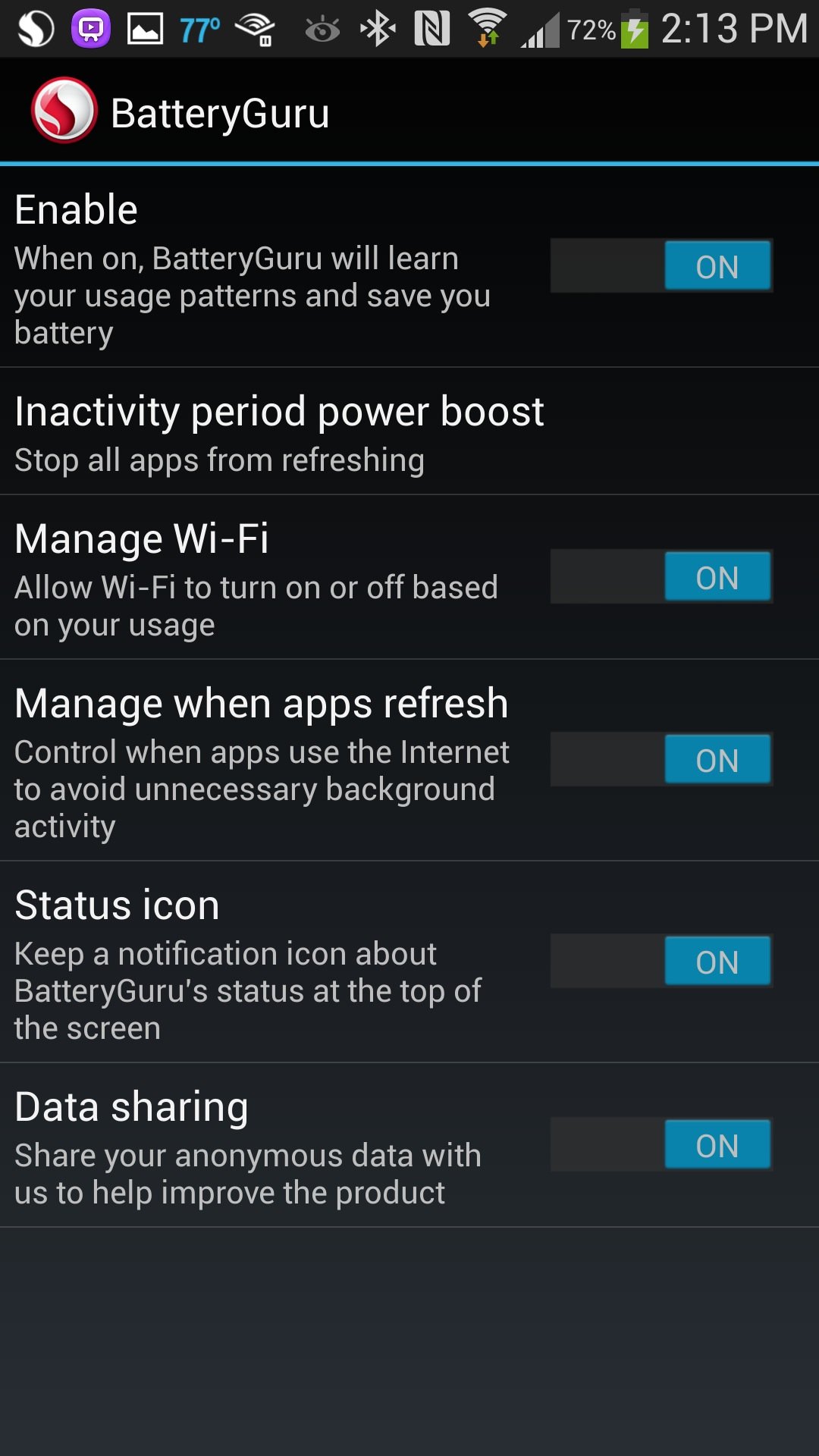 The user can go into the settings and change what BatteryGuru will manage. To manage a single app, tap the item from the main screen. For example, if we want to totally turn off Google Currents we can. Tap it and select Only when you open it and the app will never run unless the user opens it. An app can also be set to run "When it wants" or "Based on how you use it," which comes from the first testing phase. The user can exercise control over every aspect of their phone using the settings and the main screen's options accessed by tapping an item. The user can also just let BatteryGuru work.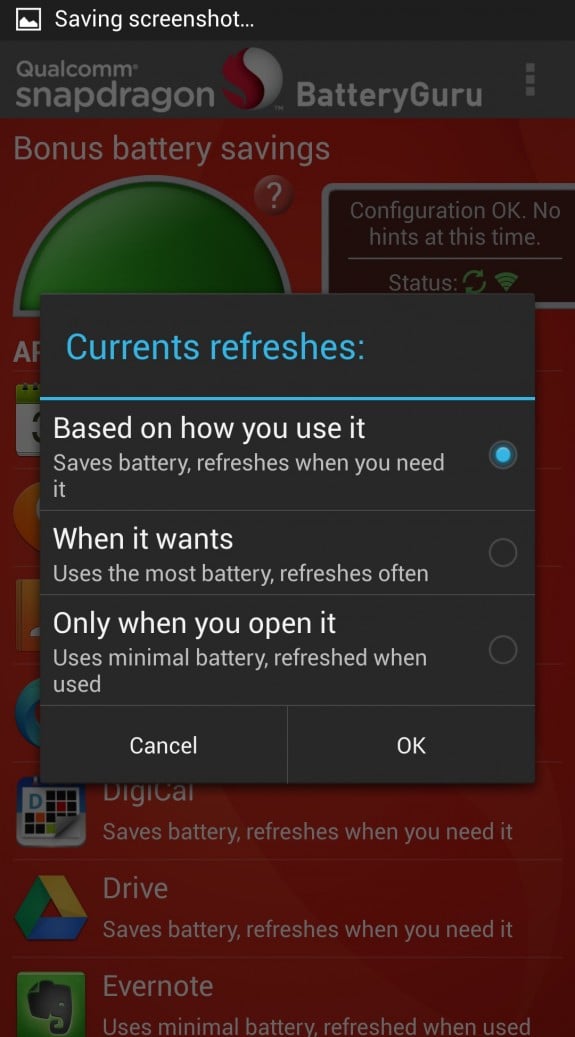 Snapdragon BatteryGuru Works Well
After the period of observation, the app began to work for us saving enough battery to extend normal usage from 10-12 hours to 15-18 hours, depending on the day and our usage of the Galaxy S4. Since the app comes free and takes up few resources in the background, we think adding five to six hours of life makes BatteryGuru a must-have app.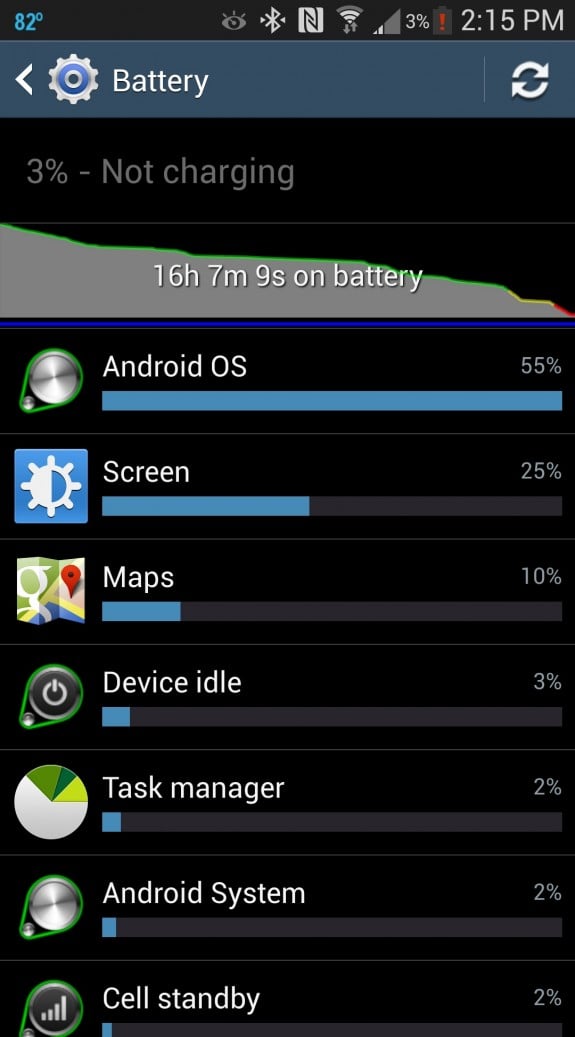 We only wish BatteryGuru worked on more devices, like our Nexus 7. It should work with many modern phones, but some can't install it. For those who can use it, download it today to enjoy better Android battery life.