Snapseed Comes to Android for Free
Snapseed makes smartphone image editing a snap thanks to an intuitive interface and some interesting photo filters and sharing tools. Now that mobile digital darkroom goodness comes to Android after a long time as an iOS only app, which only makes sense since Google bought the app.
While the app shines by making it incredibly easy to add some nice Instagram style filters, it's more than that. When a smart phone photographer takes an image he or she can quickly import it into Snapseed to do basic edits, like cropping, rotating, color correction and exposure fixes. Across the bottom in portrait mode or along the side while in landscape, the tools show up. Tap them and then use the tool to fix or improve the photo.
The system of applying the edits makes Snapseed a pleasure to use. Slide a finger up or down to choose from any of the editing tools in that category.
For example., if a user picks Tune Image, the above options show up when the user slides a finger up or down. Leg go when the slider highlights the tool in that category the user wants to use. In the image the suer selected Ambience. Now slide the finger horizontally to change the intensity of the selected correction. Right usually increases and left usually decreases the amount the app corrects the photo. Tap the check mark to add the correction or the X to cancel it.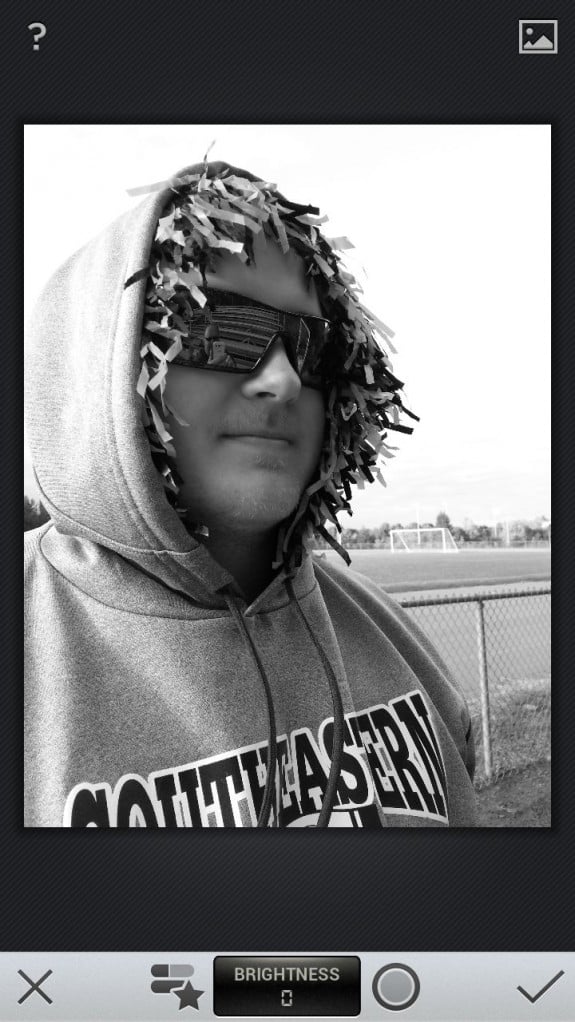 The app offers some nice filters and auto corrections. It also adds a nice Tilt-Shift effect with either elliptical or linear blur. The frames tool adds interesting borders.
When the editor finishes the work, it's sharable via Google+ from within the Android version. The G+ icon shows prominently at the top, which isn't surprising since Google owns it. The user can also select the button to save it to the phone's photo collection.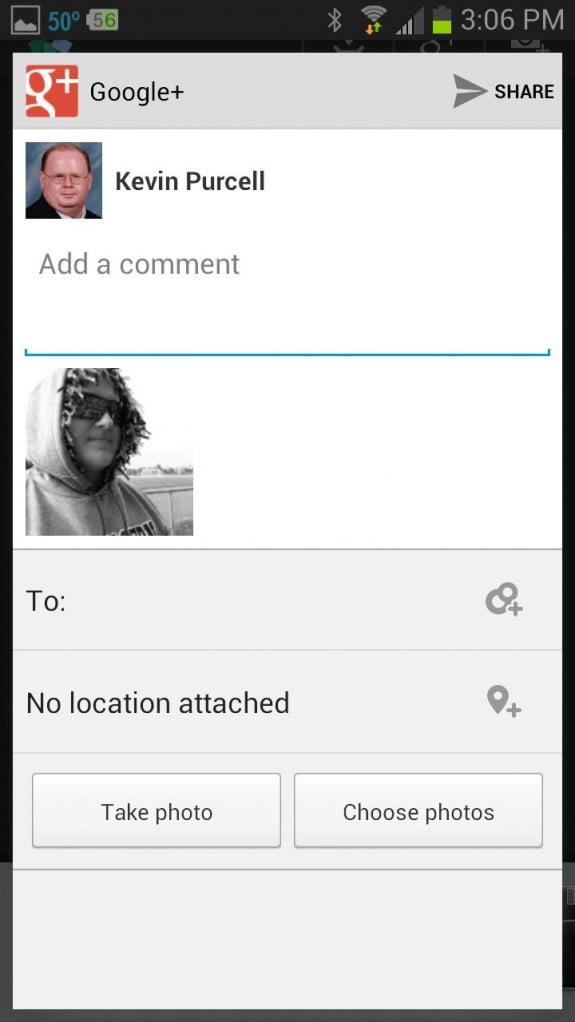 Unfortunately, users can't share photos to other services as they can with the iOS version, a major drawback of the app.
On the iPhone one can post a photo to Facebook, Twitter, send via email and open the photo in other photo apps using the iOS share feature from within Snapseed. That way a photo can get posted to services like Instagram or Evernote.
I understand why Google would prefer their own service, but handcuffing the app to Google+  limits the usefulness of the Android version. As a work around, save the photo and post using an app for one of those other services. Snapseed is good enough to make the extra steps worth the effort.
Using a large Android screen to edit with Snapseed makes the app even more enjoyable than it was on iPhone. Now that Google made the app free, Snapseed is a must-have Android photo editing app.