solBat II Solar Powered USB Charger and Battery Backup Review
The Scosche solBat II Solar Powered Backup Battery and Charger is an environmentally friendly solar powered battery that charges small devices with USB cables. It is a handy battery backup for those times when you need a little extra juice. It won't charge everything. , but in a pinch it does provide an extra boost of about 4 hours of power for your smart phone, iPod or other devices using their own USB power cable.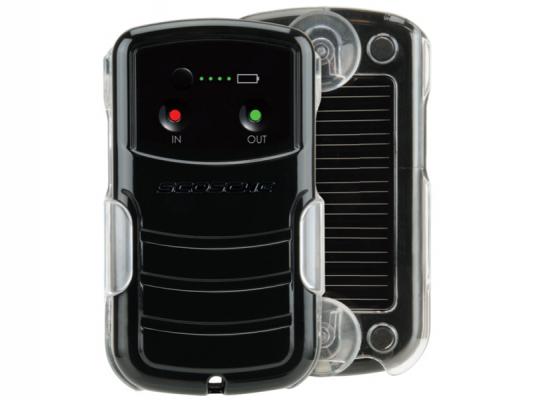 The solBat II is about the size of a deck of playing cards. It has a pair of USB ports, one for charging the solBat II's battery and the other for connecting to another device to provide power to that device. On the face of the device there are two power indicators marked IN and OUT. The one marked IN tells you when it is receiving a charge either from the USB port or the sun. The one marked OUT is there to tell you when it is providing power to another device hooked up via that device's USB cable to the solBat II. There is also a button with LED indicator that shows how much battery power is left in the solBat II.
The solBat II can be placed in a plastic holder that has suction cups. The solBat II comes with four suction cups – two for use with the holder and two spares. The purpose of this holder is to hold the solBat II fastened to a window. The solar panel on the back of the device faces out so that it can get sunlight to power the solBat II's battery. The internal battery is a 1500mA lithium ion battery. It outputs 5V – 500mA of power.
The solBat II itself doesn't charge up quickly via solar power. I plugged it into my AC to USB charger and it was charged in a few hours, but in the window it took much longer to charge via solar power – we're talking days. So charge it first by plugging it into a computer or USB/AC adapter and then place it in the sun to keep it charged via solar power.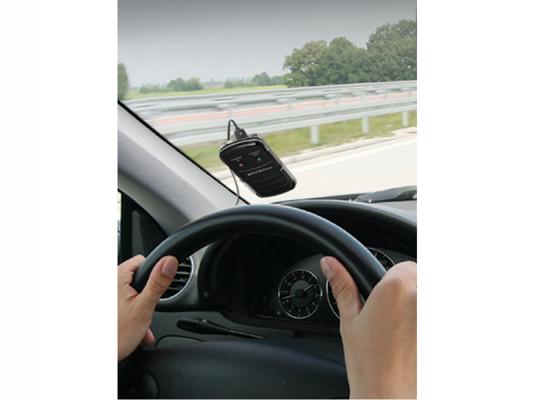 Scosche also provides a carabiner, which is one of those easy to use hooks that climbers use. This way you can hook the solBat II to your computer bag or a belt loop while walking around campus, out on a hiking trail or anywhere there is sun shining to charge the solBat II.
The solBat II works for charging most gadgets! It charged up an iPhone 4 from about 75% to just under 90% in a couple of hours. That doesn't sound that great, but realize this thing is not going to charge very fast while the phone is on. In our test WiFi and Bluetooth were both on and we were using the phone for GPS.
If you keep the solBat II in direct sunlight it should keep your gadget running even if it doesn't charge it up. Think of it less as a charger and more as a battery backup and you will be pleased.
We used it with a Verizon Mifi as well. It had enough power to keep the MiFi going a little longer than usual, but it won't keep it charged. We normally get about 4 hours of use on a single charge with the Mifi. With the solBat II fully charged we got about 5.5 hours. That was with the solBat II in direct sunlight most of the time. The results were a little disappointing since that was the primary reason we wanted to use the solBat II. This is not the first time we've had trouble with charging the MiFi. It seems to suck more power than most devices since it is constantly receiving and sending out a wireless signal.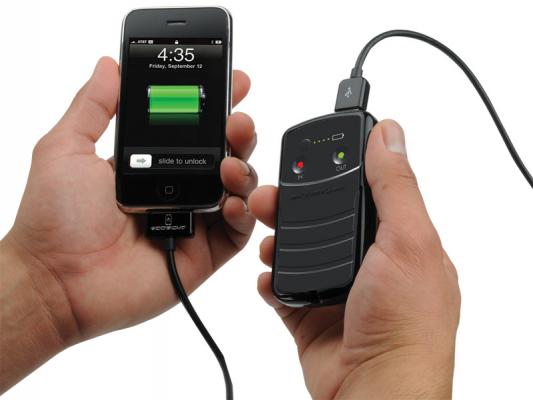 We are mostly happy with the results we had with the solBat II and an iPhone 4. If you just want to keep a cell phone or other smart phone charged while in the sun, it will work well. If you want an iPhone battery backup, you might want to look at something like the Mophie Juicepack instead. However, if you want something more versatile than just an iPhone charger, the Scosche solBat II is possibly your best solution. There are other solar powered battery chargers/backup devices even at this price point. We haven't seen many at this size and this simple to use.
The included USB cable will charge the solBat II via a USB/AC adapter or your computer's USB port. That means you can even use it out of the sunlight. At only $30 it is a great value. We found one on Amazon for just $20. We highly recommend it! Scosche scores another win with the solBat II!
Pros:
Simple to use
Provides about 4 hours of power for a smart phone, cell phone or MP3 player
Indicators on front to know when it is charging another device or being charged
Indicators to see how much battery life
Nice windshield mounting attachment
Nice backpack/belt loop mounting attachment
Great price
Cons:
Takes a long time to charge itself up in sunlight
Won't power the MiFi 2200