Some, er… Difficulties in Augen Tablet Land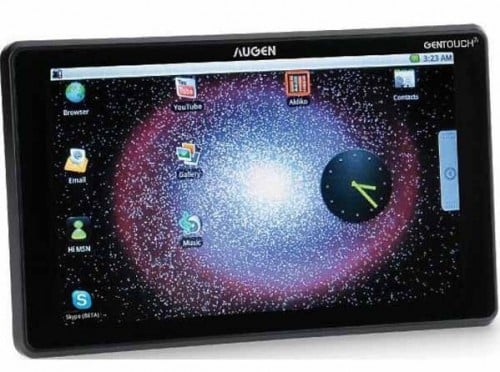 Remember those Augen Tablets that were on sale at Kmart this week for $150? I've been by Kmart several times to take a look this week, but there's no sign of the devices here yet beyond the product card and an empty space in the display case. Turns out that Augen has a few more issues as well and those who might have scored one of the slates might want to pay attention. According to a post on the Augen blog, the company will be issuing a patch to address several issues including:
the memory size of 284mb not being shown as 2GB will be corrected as this is a glitch in the software.

Android Market place not being able to download apps will be fixed in this patch, as this is a glitch in the software. As of right now the operating system and pre-loaded applications are using .5 Gb so the available space displayed should be approximately 1.5GB.
Customers are also not happy with the non-standard 2.5 headphone jack not working with 3.5 inch headphones and Augen is going to be sending out replacement earbuds to those who've purchased and change what is offered with future shipments.
Growing pains.