Some in HP Think It Might Resurrect the TouchPad?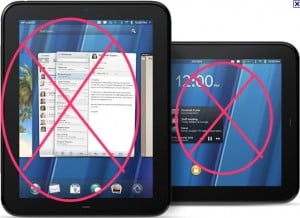 HP's Todd Bradley is apparently doing damage control in the Far East with a number of HP's partners following HP's big announcements recently. He's telling Reuters (and presumably the partners) that even if HP spins off its PC business that it could be a profitable venture, saying "a standalone company could and will do what's most required to drive value for shareholders and partners."
In addition, it doesn't seem like Mr. Bradley has given up no the TouchPad according to that Reuters report saying "Tablet computing is a segment of the market that's relevant, absolutely." Does that mean that the TouchPad might yet see new life? Who really knows. Speculation still is bouncing around about Samsung buying HP's computer division as well as lots of other random rumors. I imagine HP is working on a number of fronts attempting to figure out where to go after the poorly handled recent announcements.
Bradley also said that if HP spins off its personal computer division that he would hope to head that effort.

As an Amazon Associate I earn from qualifying purchases.