New MacBook Air Users Complain of WiFi Problems
The new MacBook Air that Apple introduced at WWDC last week has a number of improvements over previous models. But some users are having issues with the WiFi on the new laptops.
Users of the new MacBook Air mid-2013 are taking to Apple's support forums to report issues with the WiFi in their new computers. For many the MacBook Air will connect to a WiFi network for a minute or two before dropping the connection. After dropping the connection users have to reboot the machines before they can connect again.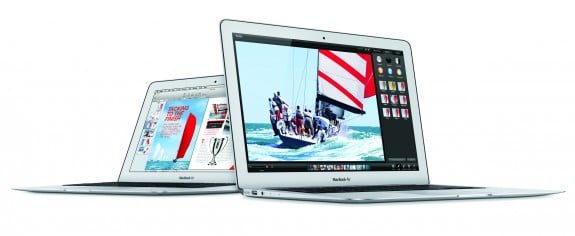 Apple Support Forum user vhkim describes the new MacBook Air WiFi problem on a request for a fix and help,
I have a brand new Macbook Air which is able to connect to the internet for just a minute or two before suddenly it drops out. This is even though the signal still shows at full strength and all my other devices are still able to surf the net as per normal.

This device is straight out of the box so no 3rd party applications have been installed. I heard that the wifi has been upgraded to 802.11n on this machine, could that be an issue?

Do i need to return the machine or is there is a software fix for this problem?
Apple switched to a a new WiFi 802.11ac standard on the mid-2013 MacBook Airs, which could explain why the problem is affecting new users. The issue may be with the new WiFi radio or with the placement of the radio inside the new MacBook Air models.
The WiFi problems extend to many users, each with different routers and wireless setups. The wide variety makes it difficult to pinpoint the exact cause of the issue.
Some users who brought up the issue on Apple support problems solved the problem by updating the firmware on their WiFi router. It's possible that other uses can resolve the issue through a similar route update.
Read: New MacBook Air Boasts 12 Hours of Battery Life on a Single Charge
Apple may choose to fix the issue with a firmware update, which has fixed similar issues with previous devices. The company may also slightly tweak the design of the new laptop to fix the issue for new users.
Those who haven't encountered the WiFi issue with the new MacBook Air praise the computer for its extremely long battery life thanks to the new Intel Haswell processor it uses. Apple claims the 13-inch model of the new MacBook Air can get up to 12 hours of battery life, though some reviews proclaim it can last for even longer.