Some Questions About the Samsung Q1 Ultra UMPC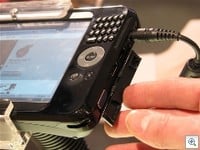 Yesterday was a flurry of activity about Samsung's newest version of the Q1 UMPC. The Q1 Ultra, (why that name?) announcement certainly got a lot of attention and is sure to continue to warrant attention. Of course the entry level version priced at $799 caused quite a stir, as did the number of different SKUs that Samsung will be making available.
One thing for sure that users will need to take a close look at the specs for each of the various SKUs and compare them to their needs before making a decision. Rob continually updated his post throughout the day as things finally settled down on which unit had which features. But beyond that early news confusion, I think there are some other questions that we'll have to track down some answers on. How are these new A100 and A110 ULV processors going to stack up against the current processors we see in current models? Yes the 945 graphics chips will allow these new UMPCs to run Vista, but what kind of impact will that have on battery life when paired with the new ULV processor? (For some early reporting on this check out Ultra Mobile PC Tips and some benchmark comparisons by Frank Garcia that raise some interesting points.)
Some of the great news yesterday was the number of stores and retail outlets that would be carrying the Q1 Ultra. We'll have to see which SKUs show up in the retail channel and when. The good news here is that consumers should be able to put their hands on these devices, but will the various models be on display or just the low end entry point?
And what about that split keyboard? Yes, the inclusion of the keyboard speaks to the concerns of many, but I have to admit that from everything I've seen it doesn't look like an elegant solution.
The days ahead will yield answers to these questions and ones we haven't even begun to ask yet. But I have to tip my hat to Samsung for pushing the platform forward. Here's hoping they can keep doing so.

As an Amazon Associate I earn from qualifying purchases.