Windows Phone 7 – Samsung Focus & AT&T Mondrian Leakage
Nothing really super new, but the suspense is really killing me here, so anything is welcome at this point. A leaked press shot with AT&T branding and a leaked ad with the Samsung Focus, previously known (and chuckled at) as the Samsung Cetus.
WM Experts shows us a shot of the AT&T Mondrian wearing the AT&T logo here.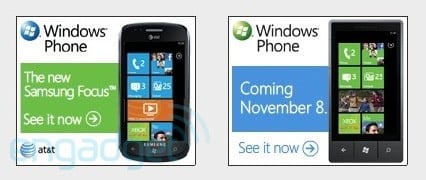 The other one is the Samsung Focus. This one was leaked out on Microsoft's website advertising the device. Guess the boys are jumping the guy getting set for tomorrow. (Engadget)

As an Amazon Associate I earn from qualifying purchases.