Somebody is Selling a new iPad on eBay for $2,000
The new iPad is already up for pre-order, but if you don't want to deal with Apple' wonky servers you can pay the extra money to get one from eBay. An enterprising eBay user is already selling the new iPad for $2,000.
Technically the user bigreat is selling an "iPad Three," but it's the new iPad we just saw announced today. The $2,000 iPad 3 is a 32GB Wi-Fi + 4G LTE model in Black for Verizon Wireless. There's not even a real picture of the new iPad.
If you do order the new iPad you'll get a release-day new iPad, though you'll have to wait a long time. While the buyer says they'll get the new iPad on March 16, the delivery isn't expected until April 2 despite the overnight delivery.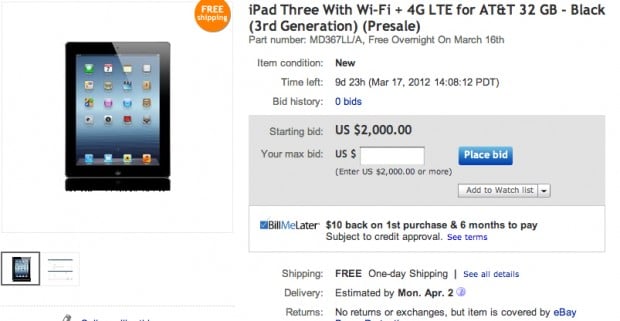 At that price you'll be better off just trying to use Apple's melting servers to buy the new iPad. Or you could just wait in line for hours to buy the new iPad.
The listing will probably be gone relatively soon, though, even if you do have the money to spent. eBay's policy won't let you sell items that you don't currently own. You can go crazy buying the new iPad on March 16, but before then don't waste your time, eBay will probably just pull the listing anyway.

This article may contain affiliate links. Click here for more details.