If you love music, but are sick of listening on the puny smartphone speakers or being chained to headphones while you move through your house, you need to get a Sonos system.
The new Sonos PLAY:3 is a smaller, more affordable HiFi system that delivers impressive audio and can connect to the Sonos Bridge, allowing you to take your music anywhere in your house.
The coolest part about getting a Sonos System, like the 2 PLAY:3 speakers and the Bridge, is that you can control your speakers from almost any device in your house, and can control different zones.
During my time with these speakers, I have controlled them with my Mac, with the iPhone, Android and the iPad. When you link up to these services, you can play music from your favorite Internet music sources, local music libraries, radio stations and even my audible books.
While the $350 entry price for one speaker and a wireless bridge is tough to swallow, these speakers are well worth the price of admission.
Read on to find out why the PLAY:3 is a perfect mix of quality, portability and connectivity.
The Sonos PLAY:3 is  a small 3 driver HiFi system that can fill a room with great quality audio. Once the bridge was set up, All I needed to add music to a room was an open outlet. The PLAY:3 is small enough to tuck in a corner or on a small shelf, but also fits in just as well on our deck outdoors.
The Bridge has good range, allowing me to put the speaker in any room on my first floor, outside on the deck and in most basement locations. I ended up with one dead spot in the basement, which isn't surprising and was easy enough to get around by adding an extension cord to the mix. It helps that you can set the speakers horizontally or vertically.
I'd lie if I didn't tell you that I felt a bit like I was Bill Gates when we had company over and I turned on different music on the PLAY:3 in the living room and on the other unit in the basement, all from my smartphone.
The unit also came in handy when we were painting rooms in our new house. Instead of listening to music over the ThunderBolt's speakers, I was able to pull up Pandora on the PLAY:3 and move it around the room as we painted. If you need to change the volume, and you aren't near your smartphone, tablet or computer, you can use the dedicated volume buttons on the top of the speakers.
Quality
While I can't go toe to toe with an audiophile, I do appreciate good quality audio. More importantly I detest bad audio.
During my time with these two PLAY:3 units I was able to push them with a collection of music ranging from spoken word, internet talk radio and Christmas carols to Kid Cudi, Foster the People, a collection of Dubstep and more.
Even when only listening to one of the speakers (they can be paired to play in stereo), I enjoyed the audio quality of the PLAY:3 speakers. I was surprised by how good all of the music and audio sounded on a small wireless system.
There was enough bass that I could feel it through my feet on the unit I kept in my office. The mid and highs also sounded good to my ears, enough that I often used the single speaker over my Logitech 2.1 THX certified setup.
You are able to control the Bass, Treble, Loudness and Balance with the desktop app.
If you have demanding audio needs, you can try out the unit for 45 days to see if you like it, something tells me you will.
Apps
The free apps are easy to use, and allow you to push all kinds of content to the PLAY:3 speakers. I was a big fan of the smartphone apps, since I always have my smartphone in my pocket, but the iPad app is also a nice way to control your home speaker system. The apps allow you to control the entire system and access a number of online content services like Pandora, Rhapsody, Spotify, Last.FM, Rdio and others. The apps controlled music easily, and allow you to control volume and group zones on the go.
When you install the app on your Windows or Mac computer, you can also share folders of music on your computer and your iTunes library. Setting up the various services and sharing is simple.
On the Pandora app and the Rhapsody app inside Sonos, I felt like I was using the native iPhone app to control the music thanks to the access to my playlists, music and even the thumbs up and down abilities in Pandora.
Bottom Line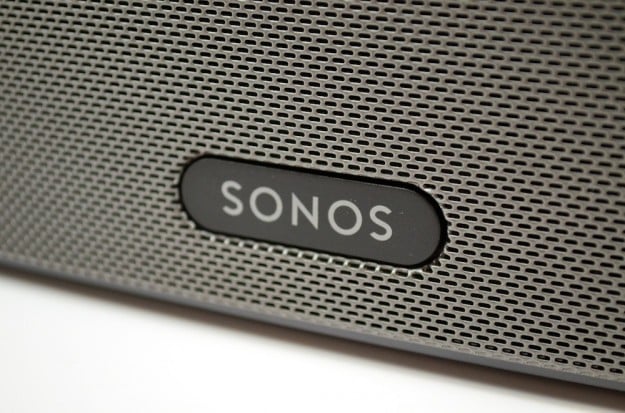 If you are looking for great sounding, wireless speakers that you can control from pretty much any device in your house, the Sonos PLAY:3 are a good choice.
The base price, of $350 with a wireless bridge, is in line with the convenience and value the system offers, but I do wish that Sonos offered a discount for users who want to get started with both of these. You can use the system without the wireless bridge, but you will need to plug into an ethernet port to do so.
The size of the unit makes it easy to move from room to room, and with the bridge all you need is a power outlet to bring the music with you.
You can find the Sonos PLAY:3 system at Sonos.com as well as your local Target.

As an Amazon Associate I earn from qualifying purchases.