Sonos Enters The Living Room With New Playbar
Today Sonos announced its new music streaming device that doubles as a TV soundbar, the Sonos Playbar.
The new Sonos Playbar has all the features one would expect from a Sonos device: it can stream music from a number of music services and the user's own library as part of a home network of speakers. The device has a total of nine speakers built into the soundbar to provide room-filling sound with exceptional clarity.
As a soundbar, the Playbar can also act as sound output for a HDTV, giving users better sound when watching TV shows and movies or playing games in addition to listening to music.
Sensors built into the Playbar let the device automatically orient audio channels and adjust sound EQs as soon as the user plugs it in. Sonos claims the Soundbar will produce amazing sound no matter the media thanks to its ability to make 24 million calculations each second to adjust the sound.
Read: Sonos PLAY:3 Review
For users who like watching movies or playing games on a HDTV late at night the Playbar also includes a "Night Sound" mode. The night mode will compress audio to avoid any loud bangs or noises that may wake up others in the house. The feature also make quieter sounds easier to hear.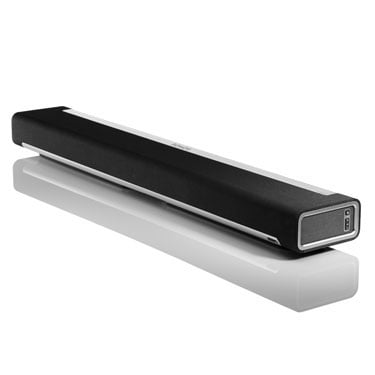 "Speech Enhancement" also makes dialogue easier to hear so users don't have to worry about and important lines.
While the Playbar itself features nine speakers, Sonos also lets users connect a Sub and two Play:3 speakers to create a 5.1 surround sound experience. Because all the speakers are wireless, users won't have to deal with any wires with such a setup. The only downside is the high cost.
The Sonos Playbar will go on sale on March 5 for $699. Users can pre-order the soundbar today, but it won't arrive until sometime in March.