Sony Announces Pair of Honeycomb Tablets, One with Dual Screens
At a press event in Japan, Sony has officially unveiled its first foray into the Android tablet space with the debut of two devices. Both devices run the Android 3.0 Honeycomb operating system, but where they differ is the form factor.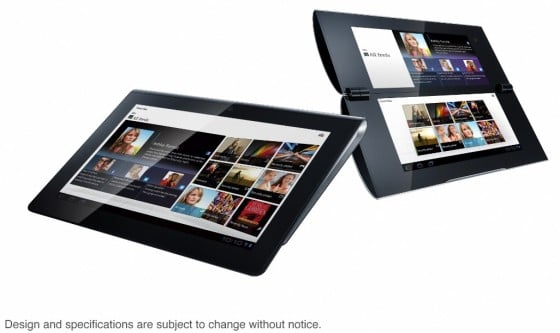 The first tablet, which has been leaked before as the S1 tablet, will utilize a more traditional slate form factor whereas the second S2 tablet will utilize a clamshell dual-screen design. For now, not a lot of details are released and the company is still referring to the tablets by their codenames of S1 and S2.
The company is saying that both devices will come in either WiFi-only editions or with the option for mobile broadband data access through 3G or 4G connectivity options. The devices are geared for content consumption and will provide easy access to consumer-based content, such as games, books, and movies.
Both devices are primed for easy and portable entertainment, web browsing, access to email, viewing videos, games, books and more. The tablets will also have access to networked content via Sony's Qriocity™ Music and Video Services as well as PlayStation® Suite and the Sony Reader™ Store.
Here is what Sony has to say about the 9.4-inch S1 tablet design:
With its off-center of gravity form factor, the 9.4-inch S1 offers stability and a sense of lightness, offering comfortable use for hours.
The S2 will be similar to the Kyocera Echo Android smartphone for Sprint, which can be used in tablet mode, combining two screens to form a larger display, or separately to 'simul-task,' a term that Kyocera and Sprint has coined.
The dual screen S2 (pictured in featured image above) comes with two 5.5-inch displays which can be used together as one large screen to browse websites and more. They can also be used for different functions as users can watch a video on one screen and input commands on the other, or check email on one screen and use the other as a soft keyboard.
The devices will be available internationally beginning Fall 2011.

As an Amazon Associate I earn from qualifying purchases.