Sony Announces VAIO Duo 11 Windows 8 Hybrid Tablet
Sony decided to combine its experience in tablets and laptops in its first Windows 8 device, the VAIO Duo 11.
The Sony VAIO Duo 11 is an 11-inch hybrid device that runs Microsoft's newest desktop OS. When close the Duo 11 is a regular 11-inch Windows 8 tablet like the Surface. Unlike the Surface which relies on accessories for a physical keyboard, the Duo 11 has a built-in keyboard.
Sony's VAIO Duo 11 uses what it calls a "Surf Slider" sliding hinge to show a keyboard beneath the screen. Because the screen slides up to reveal the keyboard, there isn't enough space for a trackpad, but that's what the touchscreen is for. It seems the Sony intends users to mostly interact with the touchscreen then bring up the keyboard for serious typing.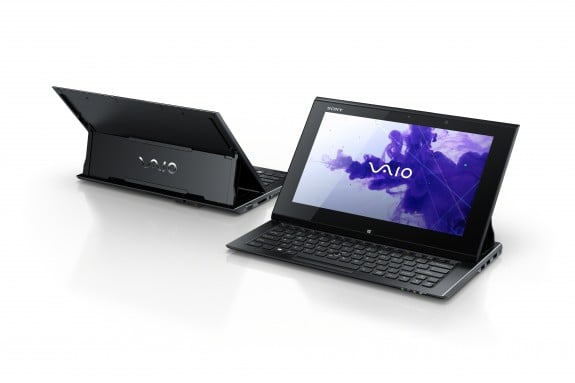 Users can use the Sony VAIO Duo 11 as an average tablet with their fingers, or they can use the digitizer pen Sony includes with the tablet for input. The pen will work with Sony's special Note Anytime for VAIO app that lets users take handwritten notes easily.
The Sony VAIO Duo 11 uses an Intel Core i7 or Core i3 CPU and runs Windows 8 or Windows 8 Pro. The 11.6-inch screen is true HD with a 1080p (1920×1080) resolution. It also includes a number of ports including two USB 3.0 ports and HDMI out.
The tablet hybrid also has NFC for easy device pairing. The NFC chip means users can pair Bluetooth devices with NFC by just tapping them to the device. The devices pair automatically so users don't need to go through any annoying menus.
The Sony VAIO Duo 11 will ship at the end of October. Unfortunately we don't know how much it will cost at launch yet.

As an Amazon Associate I earn from qualifying purchases.