Sony Could Bring DualShock 3 Support To Xperia Phones
A new video shows that Sony might soon let gamers play PlayStation Mobile or Play Store games on Xperia devices using the DualShock 3 controller.
The video comes from DJ Tom Randall, who also works for Sony Mobile. It shows a quick demonstration on how to connect the DualShock 3 to an Xperia smartphone, and a few sequences of Randall playing games on a Sony Xperia smartphone with the controller.
The setup for the controller is relatively simple: gamers connect the controller to the phone (or presumably tablet) via a special USB cable and connect the device in the Xperia menu. After setting up the controller the first time gamers can continue to use it wirelessly via Bluetooth.
The video doesn't cover it, but connecting the controller to the PlayStation 3 via a USB cable will make it control the console again instead of the smartphone.
Like the recently announced Green Throttle system, gamers can use the DualShock 3 controller to launch games from PlayStation Mobile. The controller will work with games from PlayStation Mobile as well as some games from the Google Play Store. The video highlights games like Super Crate Box and Grand Theft Auto: Vice City from PlayStation Mobile and the Google Play Store, respectively, as potential games that will support the controller.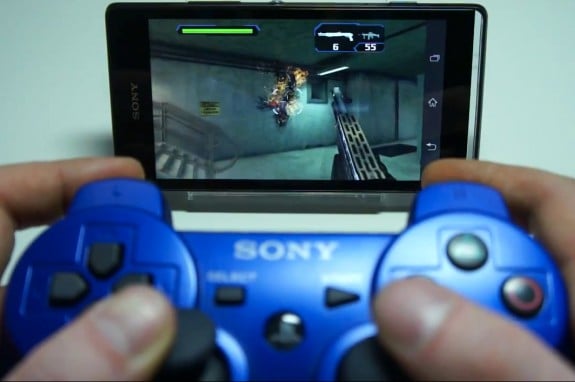 There's currently no option for Xperia smartphones to connect the DualShock 3 to Xperia smartphones. There's a chance the option will come to Xperia devices in the near future, however. It's easy to see Sony bringing the functionality to the recently released Xperia Z and the upcoming Sony Xperia Tablet Z.
The option to use the DualShock 3 controller on smartphones and tablets will give gamers another way to use the controllers after Sony releases the PlayStation 4. The PlayStation 4 will use a new DualShock 4 controller that adds a trackpad and a new share button and slightly redesigned buttons.