Sony DSC-RX100M II Review (Editors' Choice)
The Sony DSC-RX100M II is the best pocket camera money can buy. While it may look like 'just' a point-and-shoot camera, the RX100M II is a mobile photography powerhouse that will please both amateur and pro shooters.
The Sony RX100 MII is much more expensive than other point-and-shoot cameras and even some consumer DSLRs, but it's well worth its $749 price tag. Image quality is excellent, it performs like a bigger camera and it even works with iPhones and Android devices.
At first glance the Sony DSC-RX100M II looks a whole lot like other point-and-shoot cameras, but it's an entirely different beast that will make you rethink mobile photography once you use it.  Its image quality, smartphone integration and design earned it a Gotta Be Mobile Editors' Choice Award for best compact camera.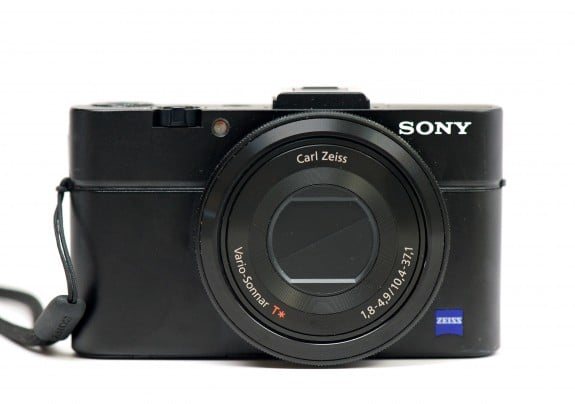 As much as I like the Sony DSC-RX100M II, it isn't for everyone. Only those willing to explore the numerous options, settings, manual controls and smartphone capabilities will realize this camera's full value. It can certainly serve many consumers better than DSLRs, but it does have its limitations. [ratingbox]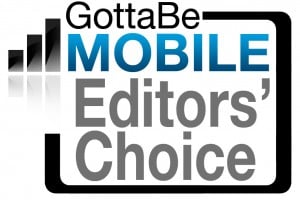 For reference, I've been taking photos for more than 20 years and have owned too many cameras to count. I often lug around my Nikon D4 and/or my Nikon D800 when to trade shows, when I travel and even to the playground to shoot pictures of my son. But there are a lot of times when DSLRs are impractical or I just don't feel like carrying 20 pounds of gear. For years I carried small Canon point-and-shoot cameras, but switched to Sony last year when the company released the RX100. I liked the RX100 so much that I purchased the RX100M II the day Sony released it. I've used the camera for three days so far and shot about 1,000 frames. That might sound like a lot, but I'm still just breaking it in and will update this review as I get a chance to use the camera on a regular basis.
Sony DSC-RX100M II Review
The Sony DSC-RX100M II Cyber-Shot is the follow up to last year's breakthrough RX100. The new model looks and feels almost identical to the older one, but there are a few key features that make the newer model stand out.
The display on the back of the RX100M II tilts up and down, there's an accessory hotshoe and an improved image sensor inside. The RX100M II features the same wireless technology found in its older sibling, allowing it to transmit photos and videos to smartphones and computers. Newer Android devices can be used to remotely control the RX 100M II.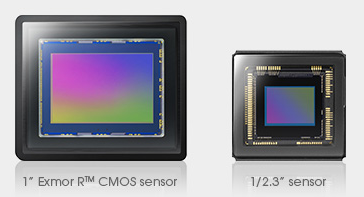 At the heart of the DSC-RX100M is its 1″, 20.2 megapixel sensor. Sony employed a fancy new sensor technology that allows for better low-light capabilities, which means it performs even better than the original RX100's sensor of the same size.
The RX100 MII's 1″ sensor (left) is very large for a camera of the RX100M II's size.  The camera's fast (f1.8) lens pairs very nicely with the sensor. A 1/2.3″ sensor (right) is what's typically found in point-and-shoot cameras.
The camera can shoot in RAW mode, allowing more editing flexibility. This is essential for photo enthusiasts who don't like how cameras process images into JPEGs. At 20.2 megapixels, the files are huge. Unfortunately, popular photo editing software from Adobe and Apple don't support the RX100M II's RAW files quite yet, but we expect to see appropriate updates shortly.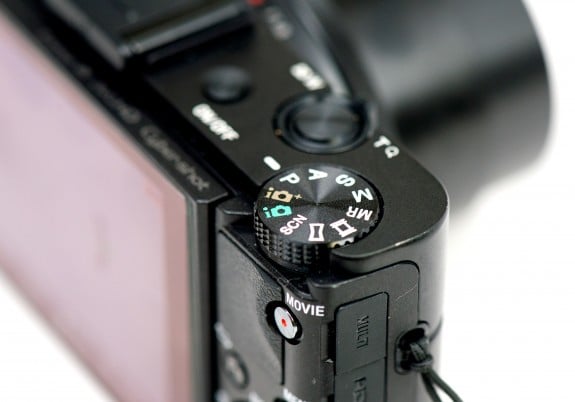 Sony made the RX100M II shell out of metal and feels like a solid piece of photography equipment that belongs right next to my professional gear. The RX100M II has a dial on top to quickly switch between shooting modes. Like everything else on the camera, the dial feels nice and solid.  The top flap on the side of the camera hides a micro USB cable for transferring photos and charging the camera's battery. This means you can recharge wherever there's a USB port, rather than having to carry around a separate battery charger. The camera's battery doesn't last as long as I like and I recommend buying at least one extra battery if you plan on shooting a lot, or using the camera's wireless features.
The rear of the camera has a second dial and an array of buttons that allow the user to make adjustments on the fly without diving too deep into on-screen menus. The ring around the lens sets the aperture, shutter speed or focus depending on which mode the camera is in.
A plastic blank rests in the RX100M II's hotshoe out of the box. Filling it with accessories is an expensive undertaking and the dealer I bought the camera from didn't have any of them in stock anyway. Perhaps the most useful accessory Sony's designed for the hotshoe is an Electronic Viewfinder, but the $449 price tag is tough to swallow. There's an external flash that fits in the hotshoe for $149 and a stereo microphone for $159.  
The Sony RX100M II's 3″ LCD tilts up  84 degrees and down 45 degrees. This feature is great for getting low-angle shots of kids and animals without having to kneel down or shooting over crowds. The tilting mechanism does add a little thickness to the camera compared to last year's model, but the tradeoff is well worth it.
Sony DSC-RX100M II Meets Android and iPhone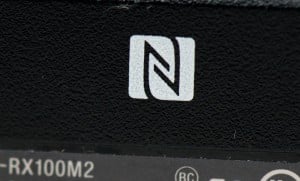 Android users will definitely get more out of the RX100M II's wireless capabilities and Sony's Play Memories app. Sony's also in the business of selling Android smartphones and it's clear the company put Android first when developing mobile apps and capabilities.
The wireless technology and how the RX100M II interacts with smartphones is what really sold me on upgrading from the RX100.
At the bottom of the camera is a Near Field Communications (NFC) transmitter that pairs the camera with compatible smartphones via Wi-Fi. Popular smartphones like the HTC One and Galaxy S4 feature NFC technology.
The RX100M II can be paired with iPhones, but the Wi-Fi password must be entered manually.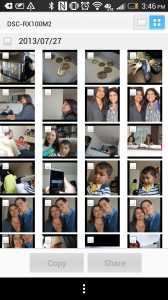 Once the RX100M II is paired with a smartphone, photos and videos can be transmitted from the camera to the phone via Wi-Fi using the Sony Play Memories app.
The iPhone version of the app only adds the files to the iOS Camera Roll. The Android version of the app is much more robust and can even control the camera remotely while a live view of camera sees streams to the phone's display. This could be useful when taking self portraits or group shots. While users can select which files to send to a smartphone from the RX100M II, it makes a lot more sense to simply choose the files using the Play Memories app. Transferring photos is pretty quick, but video files take much longer.
As I shot photos at two separate birthday parties the weekend I purchased the RX100M II, friends and family members asked me to be sure to send them photos. Rather than wait, I simply transferred photos to one of my phones and sent them via Facebook and iMessage. Like most people, I typically only upload photos to Facebook in real time from smartphones, which have mediocre cameras. I've really enjoyed instantly sharing higher quality images with friends and family.
Sony DSC-RX100M II Review: Sample Photos
Below are a selection of photos I've shot with the RX100M II so far at a couple of birthday parties and with my family in San Francisco. They're not my best work, but they're representative of what you can expect out of this camera if you get acquainted with its various settings. I always recommend looking at photographer's typical shots (such as these) rather than their portfolios when considering camera purchases. Pros, such as those Sony employees to take demo shots, can produce perfect pictures with just about any camera given enough time and preparation. These images are unedited, from the real world and shot while wrangling my toddler.
The above RX100M II sample was shot at ISO 1600, 1/100 second shutter and f4.5. The lens was extended to 30mm (3.0x zoom). The camera metered this shot as well as I could've hoped, considering. The Sony RX100M II has an ISO range of up to 12,800. It can be pushed up to 25,600 in the camera's multi-frame noise reduction mode.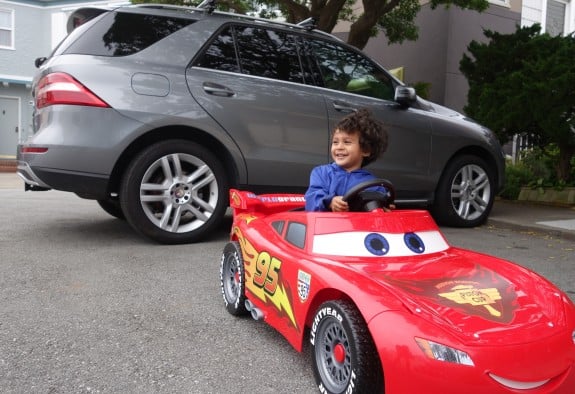 The tilting display's helped me capture images like this one of my son without having to get on my knees. This really comes in handy when I have to run to keep up with my son.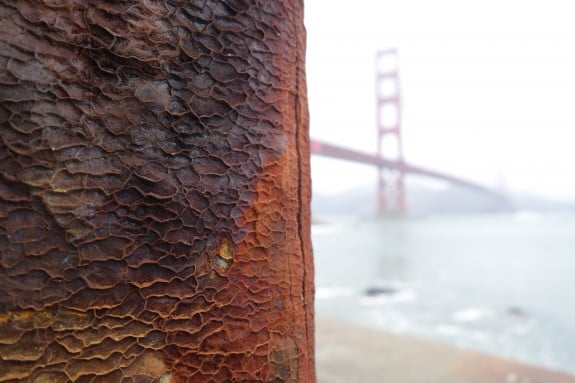 This is an example of a photo with the Sony RX100M II in macro mode. The camera captures an incredible amount of detail in macro mode and can focus on objects as close as 2″ away from the front of the lens.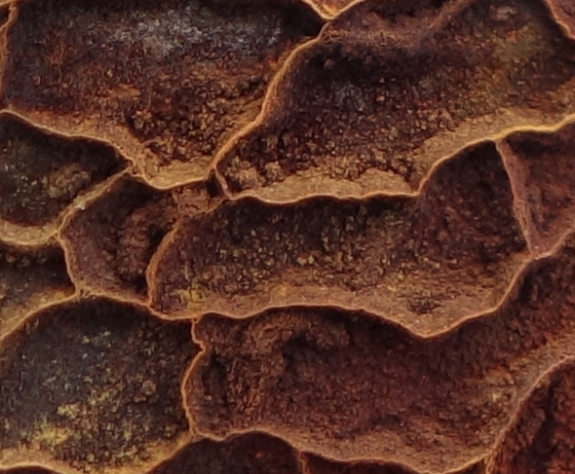 Here is what the metal railing post near the Golden Gate Bridge looks, cropped to 100% resolution. I could get better results with my Nikon D4 and 105mm Macro lens, but that combo weighs more than four pounds. The Sony RX100M II weighs just 9.9oz.
Many cameras have a slight lag between when the shutter button is pressed and when the photo is taken. That's not the case with the RX100M II. Photos are shot the moment users press the shutter, whether it's the first shot or one of many follow up shots.The Sony RX100M II can snap up to 10 frames per second at full 20.2 MP resolution. It can fire off a dozen shots in JPEG mode before having to take a break to transfer images from the buffer to the memory card.
The above picture was shot in burst mode at 1/400 of a second. The camera can freeze motion at up to 1/2000 of a second.  The camera processes photos very quickly, which means Camera speed makes a world of difference when shooting moving objects.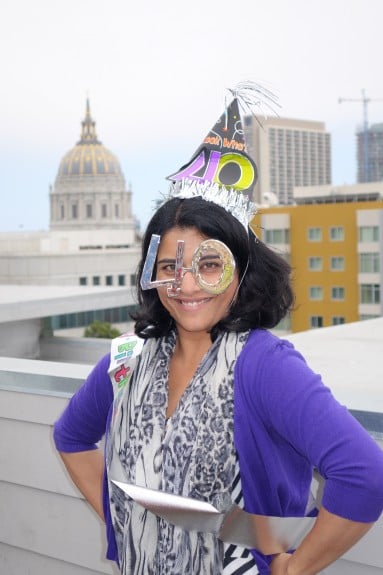 The Sony RX100 MII has a small pop-up flash that serves just fine as a basic fill flash for portraits such as the above. The flash's mount can be bent backwards to bounce light off of the ceiling or wall when desired.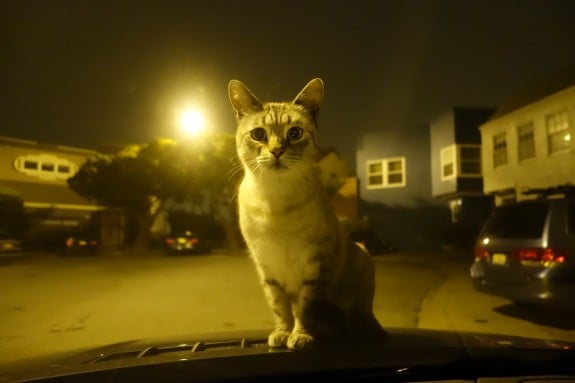 This cat surprised me late at night as I parked my SUV. I captured this image through the windshield at 1/6 second, f1.8  and ISO 3200. This is a fantastic pet snapshot considering the only light sources were a pair of street lamps. Notice how well defined the cat's eyes and whiskers are. 
Panorama mode works well, though the camera will nag you if you go too slow or fast.
The Sony RX100 M II's lens zooms from 10mm to 30mm. That's a 35mm equivalent of 28mm to 100mm, which it means it covers most photographer's needs just fine out of the box. Above is a photo of the Golden Gate Bridge take near Fort Point in San Francisco at the widest angle possible.
This is as close as the RX 100M II will get using its 3.6x optical zoom. Everything looks great at this zoom range.
Sony has a sophisticated digital zoom feature called Clear Image Zoom that delivers decent results. The above is an example shot at 7.2x zoom, the maximum Clear Image Zoom extends. That's the equivalent of a 200mm lens on a full-frame DSLR. I'd only use this feature in a pinch when it isn't practical to get closer to the subject.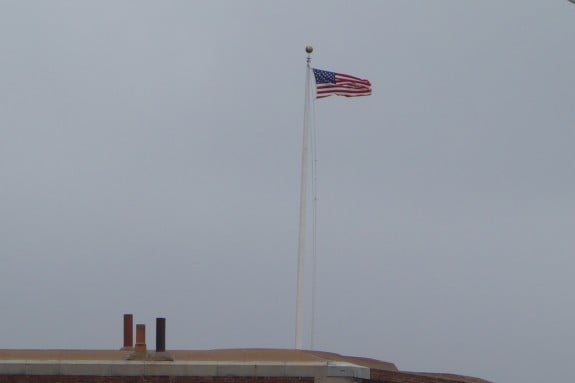 The RX100M II can zoom all the way out to 14x when plain old Digital Zoom is enabled. But at that point image quality really suffers as expected. There is enough detail to clearly make out the flag's features, but it really isn't pretty when viewed on a large display.
Sony DSC-RX100M II Review Conclusion
Though I've only had the Sony DSC-RX100M II for a few days it's become my go-to mobile camera. The RX100M II is a definitely worth the $100 premium over the RX100, which Sony continues to sell. While the RX100 M II's $749 price tag may sound like a lot, it's a better value than buying a low-end DSLR or smaller interchangeable lens system in the same price range. You will be able to shoot better photos with bigger cameras than that RX100M II, so long as you're willing to invest in high-quality lenses, but this compact camera offers a welcome reprieve from the complexity and heft of shooting with Nikons. Sony's NEX and the competing Micro 4/3 format cameras are smaller than DSLRs, but even those interchangeable-lens cameras are too big to squeeze in a pants pocket. For now, the Sony DSC-RX100M II is the king of small cameras. [ratingbox]

This article may contain affiliate links. Click here for more details.