Sony Goes Fashion Conscious And Starts Shipping The Micro Vault Tiny Drive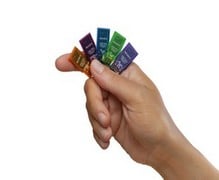 Sony has started shipping its newest line of USB drives, The Tiny. Aimed at the "fashion-forward" consumer, The Tiny is roughly 1/2 inch wide and just over one inch long. It comes in 256, 512, 1gig, 2gig, and soon a 4gig capacity, each with its own color. Suggested prices range from $29 to $199.99.
The Tiny also comes with a clip on carrying case that can be worn as a fashion accessory. So, I'm wondering, is your data fashion aware?