Sony Honami Coming By End of Year With Point-And-Shoot Quality Camera
Sony Korea head Kenji Sakai revealed that his company's much rumored Honami smartphone will be hitting the Korean market by the end of the year. In recent months, the Honami is also said to be going by its i1 name, and the device will likely launch under Sony's Xperia branding. A major appeal of the Honami is its camera, which will come with a new sensor, Sony's G Lens for optics, and a snappy processor.
The phone may make a debut as early as September at the IFA trade show in Germany, if rumors are accurate.
Sakai was only speaking about the Korean market, according to Pocket-lint, so it's unclear when the device will hit the U.S. and under which carriers. The company has had a more difficult time with a timely release of the Xperia Z smartphone, which was originally announced at the CES show at the beginning of this year and is now only becoming available on T-Mobile US. As such, it may be a while before the Sony Honami i1 hits U.S. shores at a subsidized price for consumers.
READ: 4 Smartphones With Amazing Cameras to Watch for Later This Year
The phone is expected to be heavily focused on its camera performance to compete against the Samsung Galaxy S4 Zoom and the Nokia Lumia 1020 PureView. Sony is said to be introducing a new 20-megapixel backside illuminated Exmor RS sensor for the phone, along with other camera improvements.
More recently, Engadget had reported that online retailer ePrice had posted a specs sheet, which if accurate, will give us a better indication of what the phone will pack.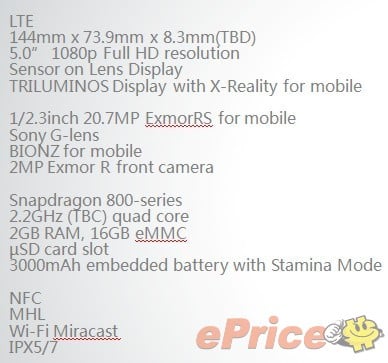 The device is described as having a 1/2.3-inch sensor size, so the sensor isn't quite as big as that on the large sensor on the Nokia Lumia 1020. Where bigger sensors are better for image capture, the 1/2.3-inch size isn't bad either as it's larger than the sensor on traditional smartphones and is the equivalent of what is being used on many compact point-and-shoot cameras on the market today. In fact, it's the same sensor size as that on the Galaxy Camera from Samsung, a dedicated camera with Android as its OS.
The device is said to debut a new camera UI.
Other specs include a 2.2 GHz Snapdragon 800 quad-core processor, 2 GB RAM, 5-inch full HD 1080p display with TRILUMINOS display technology, and a 3000 mAh battery with Stamina Mode for long battery life in between recharges.

As an Amazon Associate I earn from qualifying purchases.