Sony Patents EyePad Tablet, Could Bring 3D Controls to PlayStation 4
Sony recently patented a tablet it calls the EyePad that could bring 3D control to the PlayStation 4 according to a report from SlashGear.
The patent for the EyePad shows a tablet device with a large touchpad in the center and physical controls on either side of the touch area. The touchpad could act as a way to interact with games, but gamers won't have to actually touch it to interact with their console.
Beneath the touchpad in the Sony patent is a collection cameras that point up, above the touchpad itself. These cameras let gamers interact with their games in 3D space. The cameras can track hand movements above the touchpad as well as objects placed above the tablet.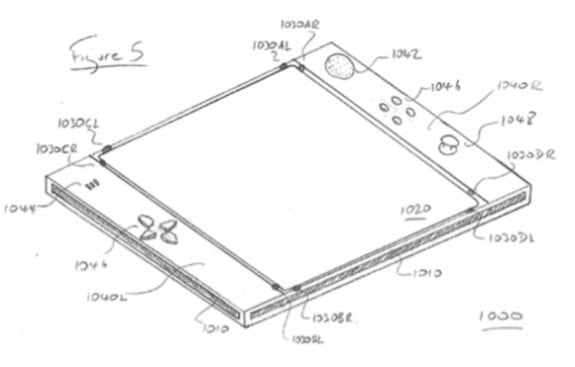 With the cameras inside the EyePad gamers can interact with items in their games using their hands. One example is for the game EyePets. The EyePad can serve as a grooming station for the virtual pets in EyePets, gamers can pet and brush their virtual pets using the tablet.
Other ideas include using the EyePad to build a 3D roller coaster and to interact with point-and-click adventure games.
The EyePad itself can also act as a PlayStation Move device. Every side of the tablet will light up with different colors so the PlayStation Eye can track the tablet's movement. Paired with the controls on the sides of the touchpad the EyePad could replace some of the uses of the DualShock PlayStation controller.
As the EyePad is only a patent, there's a chance Sony won't ever make such a device. Sony will likely announce the PlayStation 4 at an event in New York City on February 20, where it could also announce the EyePad, or something similar. The new PlayStation 4 will likely come to stores sometime this fall, around the same time as the next Xbox from Microsoft.